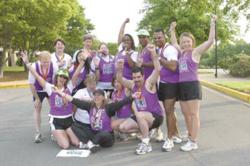 TNT was great. I raised a ton of money, trained for and completed a marathon, made some amazing friends, and witnessed some pretty amazing people fighting some pretty awful illnesses
San Francisco, CA (Vocus/PRWEB) April 16, 2011
Team in Training (TNT) has been named the BayList award winner for "Best Running Club" for 2011, an honor they won in 2010 as well. BayList awards are determined by votes from San Francisco Chronicle and SFGate.com readers.
TNT also won "Best Training Group" in the most recent Best of SF Weekly. They offer training for marathons, half-marathons, triathlons, cycling events and more while raising money for The Leukemia & Lymphoma Society (LLS), whose mission is to cure blood cancers and provide support to patients and families.
"This enthusiastic and well-organized bunch envelops you in its team mentality. It's infectious," SF Weekly raved about the San Francisco triathlon training and marathon training program.
TNT stands out from other programs that offer marathon and half-marathon training in San Francisco because in addition to physical training, they offer a deeper sense of purpose for participants who raise funds for LLS. Each trainee is connected with an honored patient, so they know exactly who is benefiting from their efforts.
TNT is the world's largest endurance training organization. Their expert trainers help inspire participants to reach their goal, whether it's a full 26.2-mile marathon, a 13.1-mile half-marathon, a 100-mile cycle ride, triathlon or a hiking adventure. They also teach participants fundraising techniques.
"TNT was great. I raised a ton of money, trained for and completed a marathon, made some amazing friends, and witnessed some pretty amazing people fighting some pretty awful illnesses," said Tiffany M. of San Francisco. "I went from the couch to being able to run for two minutes to a marathon in four months. There was no judgment, there are people at all different levels running and the coaches are really awesome."
TNT's various options for marathon training in San Francisco are designed to fit the goals and schedule of each participant. Traditional TNT training includes hands-on training with a certified coach, weekly team runs, fundraising mentoring, an individual website for fundraising purposes, and social events to build team spirit and start lifelong friendships.
Alternatively, TNT Flex, an online coaching and support system, includes an individualized training program, weekly online or phone communications, an extensive online community, and even smartphone apps for on-the-go training. Participants can also choose to do a little of both traditional and Flex training.
To learn more about TNT and TNT Flex, visit http://www.teamintraining.org/sf. For a list of upcoming information meetings, visit http://www.teamintraining.org/sf/firsttimehere/info.
About Team in Training
Team In Training (TNT) began in 1988, when Bruce Cleland of Rye, NY formed a team that raised funds and trained to run the New York City Marathon in honor of Cleland's daughter Georgia, a leukemia survivor.
The team of 38 runners raised $322,000 for LLS's Westchester/Hudson Valley Chapter. Because of the pioneering efforts of Cleland and the Westchester/Hudson Valley Chapter, Team In Training was born and has grown into the world's largest endurance sports training program. Cleland was honored by Runner's World magazine in 2004 as one of their "Heroes of Running" for his role in establishing TNT.
Whether participants choose The Leukemia & Lymphoma Society's traditional Team In Training program or TNT Flex, a flexible, customized online training option developed by TNT's renowned coaches, they get all the support they need to cross the finish line at the marathon, half marathon, triathlon, century ride and hike adventure of their choice. Both offer a choice of world-class events, travel arrangements to an exciting destination, and a fabulous, activity-filled weekend once they're there.
About The Leukemia & Lymphoma Society
The Leukemia & Lymphoma Society (LLS), headquartered in White Plains, NY, with 68 chapters in the United States and Canada, is the world's largest voluntary health organization dedicated to funding blood cancer research and providing education and patient services. The LLS mission: Cure leukemia, lymphoma, Hodgkin's disease and myeloma, and improve the quality of life of patients and their families. Since its founding in 1949, LLS has invested more than $750 million in research specifically targeting leukemia, lymphoma and myeloma.
For more information about blood cancer, visit LLS.org or call the LLS Information Resource Center (IRC), a call center staffed by master's level social workers, nurses and health educators who provide information, support and resources to patients and their families and caregivers. IRC information specialists are available at (800) 955-4572, Monday through Friday, 9 a.m. to 6 p.m. ET.
# # #