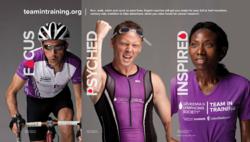 Being a part of Team In Training has helped our organization in so many ways; the future of Giant is indeed brighter and healthier as a result
San Francisco, CA (PRWEB) October 05, 2011
Team In Training (TNT) is well known in the Bay Area for training individuals to complete a full or half marathon, century ride, triathlon or hike adventure. But fewer people are aware that it now does the same for companies looking to inspire their employees to become fit and active, truly experience the thrill of teamwork, and give back to their community. Corporate teams are now forming for the upcoming spring season.
TNT corporate teams enjoy all of the tried and true elements that make TNT so special: the customized training with expert coaches, fundraising support from mentors and captains and honored teammates who motivate and inspire. What's unique to the corporate program is the double dose of camaraderie and team building that comes from the team within a team structure. As they work towards a common goal—training for an endurance event and fundraising for a cause that touches so many—employees become united through their experience and share all of the exhilaration, pride and energy that comes with it.
The Bay Area marathon training program is for businesses of all sizes and can be tailored to meet the company's needs and goals. As with the traditional program, TNT takes care of all program and event logistics. Event options include full or half marathons, cycle century rides, triathlons and hike adventures. Benefits unique to the corporate program can include internal company kickoffs and clinics, logoed event-weekend team apparel, and company recognition and acknowledgement.
"Being a part of Team In Training has helped our organization in so many ways; the future of Giant is indeed brighter and healthier as a result," said Adam Gelling, Senior Vice President of Giant, a marketing communications agency based in San Francisco.
Bay Area triathlon training, marathon training, and half marathon training corporate teams are forming now for the upcoming season. To learn more about how to create a TNT corporate team, contact Jen Canalin by email at Jen.Canalin(at)lls(dot)org or by phone at (415) 625-1104.
About The Leukemia & Lymphoma Society
The Leukemia & Lymphoma Society (LLS), headquartered in White Plains, NY, with 68 chapters in the United States and Canada, is the world's largest voluntary health organization dedicated to funding blood cancer research and providing education and patient services. The LLS mission: Cure leukemia, lymphoma, Hodgkin's disease and myeloma, and improve the quality of life of patients and their families. Since its founding in 1949, LLS has invested more than $750 million in research specifically targeting leukemia, lymphoma and myeloma.
For more information about blood cancer, visit http://www.LLS.org or call the LLS Information Resource Center (IRC), a call center staffed by master's level social workers, nurses and health educators who provide information, support and resources to patients and their families and caregivers. IRC information specialists are available at (800) 955-4572, Monday through Friday, 9 a.m. to 6 p.m. ET.
###