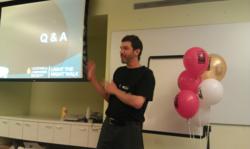 San Francisco, CA (PRWEB) October 13, 2011
To the general eye, jgwkia looks like a random bunch of letters. To the Salesforce.com team, it's a familiar rally cry for a much loved employee. It stands for "JG Will Kick Its ___" (fill in the blank). The "it" is acute myelogenous leukemia (AML), an aggressive form of cancer that Salesforce.com employee John Greene (aka JG) has been successfully fighting since last November. Salesforce.com is supporting JG as he defies his cancer, both in real life and on his blog, http://www.jgwkia.com. The company held a bone marrow drive earlier this year, and just kicked off their Light The Night fundraising team, which will walk beside JG at the San Francisco cancer walk on October 20th.
Salesforce.com recently held three kickoff events, one for each Salesforce.com building, to inspire employees to join the San Francisco fundraising walk, and to help JG reach his goal of raising $100K. JG's presentation, "A Dream of a Life: A Brief Timeline of My Story," depicted JG's story from childhood to the present day.
Set to music, the show included photos of his major life events including his childhood; his wedding day; the birth of their first son Floyd, which coincided with the Phillies World Series win; the birth of their second son, Orion; JG's 40th birthday; and their fun family trip to Mexico. It also included a chronicle of his cancer journey – the hair loss, treatments and hospital stays.
Attendees alternately laughed, welled up, and were inspired to take action by the end. Some Salesforce.com employees shared their own personal stories with JG following the presentation. One woman shared that her sister had gone through treatment as a young girl and the pictures of JG in treatment brought the whole experience back.
Some were inspired to carve themselves into groups to rally their respective departments to participate in Light The Night Walk. Sub-teams within departments have emerged, including a Giants fan group walking to support JG.
JG was diagnosed on November 8, 2010. Given the aggressive nature of his leukemia, treatment started three days later. By the end of December, JG's doctors at UCSF decided that he needed a bone marrow transplant.
The Salesforce.com team rallied around him, organizing a Be The Match Marrow Registry drive in January 2011 that yielded nearly 400 additions to the National Marrow Registry and even made the local news.
A match was found, and JG's "day one" with a new immune system was March 30, 2011. Today, just six months out from his transplant, his leukemia is in remission and he's back at work and inspiring other Salesforce.com workers to join him for the Light The Night Walk.
Participants in the San Francisco leukemia walk will gather in Union Square on Thursday, October 20th from 5:00 pm to 8:00 pm and walk for two miles. Participation builds team spirit, sense of camaraderie, and sends a strong signal that a company cares about the health and welfare of the community.
Light The Night is a great teambuilding event for companies. Other participating companies include Burson Marstellar, Marsh Risk & Insurance, Bare Escentuals, Silicon Valley Bank, Wells Fargo, Takeda, Umpqua Bank, and Genentech.
To learn more about the Light The Night Walk, visit http://www.lightthenight.org/sf/. For specific information about the San Francisco Light The Night Walk, call (415) 625-1112, or email Nicole Chapman at Nicole.Chapman(at)lls(dot)org.
About Light The Night Walk
The Leukemia & Lymphoma Society's Light The Night Walk funds lifesaving research and support for people battling cancer. Friends, families and co-workers form fundraising teams and millions of consumers help by donating at retail outlets. The Light The Night Walk brings members of the community together, whether they walk as a corporate teambuilding event or in support of a loved one.
Light The Night Walk is an event for the entire community—children, adults and seniors are all welcome. It is a casual fundraising walk with no fitness requirements. Every walker is encouraged to become a Champion For Cures by raising $100 or more to support researchers in their quest for more targeted, less toxic therapies for leukemia, lymphoma and myeloma.
Three walks will take place in the Bay Area. The North Bay leukemia walk will be held on Saturday, October 15, 2011, from 5:00 pm to 8:00 pm. Participants start at Courthouse Square in Santa Rosa. The San Francisco fundraising walk will be on Thursday, October 20, 2011, from 5:00 pm to 8:00pm starting at Union Square. The East Bay walk will take place on Saturday, October 22, 2011, from 5:00 pm to 8:00 pm starting at Civic Park in Walnut Creek. To register for a Light The Night Walk near you, visit http://www.lightthenight.org/sf.
About The Leukemia & Lymphoma Society
The Leukemia & Lymphoma Society (LLS), headquartered in White Plains, NY, with 68 chapters in the United States and Canada, is the world's largest voluntary health organization dedicated to funding blood cancer research and providing education and patient services. The LLS mission: Cure leukemia, lymphoma, Hodgkin's disease and myeloma, and improve the quality of life of patients and their families. Since its founding in 1949, LLS has invested more than $750 million in research specifically targeting leukemia, lymphoma and myeloma.
For more information about blood cancer, visit http://www.LLS.org or call the LLS Information Resource Center (IRC), a call center staffed by master's level social workers, nurses and health educators who provide information, support and resources to patients and their families and caregivers. IRC information specialists are available at (800) 955-4572, Monday through Friday, 9 a.m. to 6 p.m. ET.
# # #