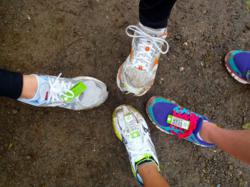 For the next three weeks, we want YOU to show us what curing cancer looks like. We want to see pictures of you and your teammates at your grittiest—helmet hair, sticky 'goo' fingers, trail dirt and all
San Francisco, CA (PRWEB) March 23, 2012
The Leukemia & Lymphoma Society's Team In Training (TNT), the Bay Area's largest endurance sports training and charity program, knows that part of getting in shape for a marathon, triathlon, hike or cycle event is getting dirty and being proud of it. That's why TNT is holding the "Show Us Your Grit" photo contest, an opportunity for local marathon, triathlon, hike and cycle teams to engage in a little friendly competition to see who can post the most pictures of themselves at their dustiest, muddiest, sweatiest, grimiest, strongest—in other words, at their very best. This grit also illustrates something even bigger–the dedication and motivation of all TNT participants to fight blood cancer!
The team that posts the most photos to Facebook and Twitter by April 5th will win a post-training pancake breakfast, a 20% off coupon for all teammates to Lombardi Sports and will become the face of local TNT marketing efforts for the 2012-13 fall and winter seasons.
"For the next three weeks, we want YOU to show us what curing cancer looks like. We want to see pictures of you and your teammates at your grittiest—helmet hair, sticky 'goo' fingers, trail dirt and all," invites TNT.
The contest is as easy as 1-2-3:
1) Like TNT-SF Bay Area on Facebook and follow @TNT_SFBayArea on Twitter.
2) Tweet or post photos on TNT's wall of you and your teammates showing off your best during and post-training grit. There is no limit to how many you can tweet/post!
3) Tag everyone in the photo, share it with your friends, use the hashtag #ShowUsYourGrit and make sure to add a fun caption shouting out your training team of choice. Tag your team's Facebook page too to let them know you're represented!
The San Francisco marathon training group's pages are already filling up with photos submitted by gritty marathoners and triathloners. TNT will also repin the pics on Pinterest—to add to all the fun.
Brian Kinion (@bkerocks) tweeted, "Getting it done in the Marin Headlands for Ultra Team! @TNT_SFBayArea #ShowUsYourGrit" with a picture of himself getting ready to run the 10.8-mile trail to Muir Beach.
Ashley Bramwell posted a picture on Facebook of four people's muddy running shoes, declaring, "A little mud won't stop us! Go East Bay Diablo Valley!! #ShowUsYourGrit!!"
The contest ends on April 5th, and the winning team will be announced on April 6th.
Team In Training has a program for athletes of all skill levels. There's a wide range of events including half, full and ultra marathons; hike adventures; triathlons; and cycling events. Visit http://www.teamintraining.org/sf or call 800.78.TRAIN to talk to a local Team Manager.
About Team In Training
Team In Training (TNT) offers marathon training, half-marathon training, and triathlon training. Individuals can also train for cycling events and adventure hikes. TNT began in 1988, when Bruce Cleland of Rye, NY formed a team that raised funds and trained to run the New York City Marathon in honor of Cleland's daughter Georgia, a leukemia survivor.
The team of 38 runners raised $322,000 for LLS's Westchester/Hudson Valley Chapter. Because of the pioneering efforts of Cleland and the Westchester/Hudson Valley Chapter, Team In Training was born and has grown into the world's largest endurance sports training program. Cleland was honored by Runner's World magazine in 2004 as one of their "Heroes of Running" for his role in establishing TNT.
Whether participants choose The Leukemia & Lymphoma Society's traditional Team In Training program or TNT Flex, a flexible, customized online training option developed by TNT's renowned coaches, they get all the support they need to cross the finish line at the marathon, half marathon, triathlon, century ride and hike adventure of their choice. Both offer a choice of world-class events, travel arrangements to an exciting destination, and a fabulous, activity-filled weekend once they're there.
About The Leukemia & Lymphoma Society
The Leukemia & Lymphoma Society (LLS), headquartered in White Plains, NY, with 68 chapters in the United States and Canada, is the world's largest voluntary health organization dedicated to funding blood cancer research and providing education and patient services. The LLS mission: Cure leukemia, lymphoma, Hodgkin's disease and myeloma, and improve the quality of life of patients and their families. Since its founding in 1949, LLS has invested more than $750 million in research specifically targeting leukemia, lymphoma and myeloma.
For more information about blood cancer, visit http://www.LLS.org or call the LLS Information Resource Center (IRC), a call center staffed by master's level social workers, nurses and health educators who provide information, support and resources to patients and their families and caregivers. IRC information specialists are available at (800) 955-4572, Monday through Friday, 9 a.m. to 6 p.m. ET.