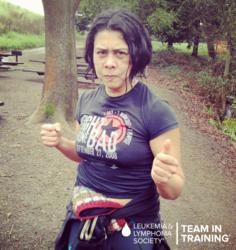 Our athletes are out there night and day getting gritty for one thing – to end blood cancer – but their amazing training and fundraising efforts extend far beyond just that
San Francisco, CA (PRWEB) April 06, 2012
The results are in for the "Show Us Your Grit" contest held by the Greater San Francisco Bay Area chapter of the Leukemia & Lymphoma Society's Team In Training (TNT). Over 1,870 photos were submitted of TNT athletes from all over the Bay Area getting dirty and wearing their grit with pride as they train for their marathon, triathlon, hike and cycle events.
The top three teams submitted nearly 1,670 gritty photos of their amazing athletes training their way to their fundraising and fitness goals, but only one team came out the grittiest.
With the "Show Us Your Grit" contest, the Bay Area's largest endurance sports training and charity program wanted to show the kind of motivation and dedication to fight blood cancer that all TNT participants have, and also spread awareness about the bigger picture.
"Our athletes are out there night and day getting gritty for one thing – to end blood cancer – but their amazing training and fundraising efforts extend far beyond just that," says TNT. "With their help, the Leukemia & Lymphoma Society has funded research and breakthroughs that span all types of cancer, including the development of the drug Gleevec, which is also approved for patients with rare skin and stomach tumors."
The photos submitted for the contest were entertaining, motivational, unpredictable, and downright hysterical, but only one Team In Training Team won a free pancake breakfast and 20% off coupon to Sports Basement.
The winning team, who submitted the most photos to TNT San Francisco's social media pages since the contest began on March 20, will also be the new face of local TNT marketing efforts for the fall and winter seasons.
And the winner is…the East Bay – Diablo Valley Team, who bombarded Team In Training's Facebook, Twitter and Pinterest pages with over 843 photos of teammates getting gritty as they train for marathons and half marathons.
The East Bay – Diablo Valley Team is made up of 35 athletes and all of them are training for one of these events: Avenue of the Giant's Half Marathon, Rock 'n' Roll San Diego, and Mayor's Marathon and Half Marathon. They have been training for about two months now and have raised $63,328 so far for patient services and research.
Coming in a close second place is the Ultramarathon Team, a small but mighty team, who submitted 513 photos to TNT San Francisco's social media pages.
The third place title goes to the incredible San Francisco/Marin Triathlon Team, with 312 photo submissions.
So far over $853,000 has been raised by all the Bay Area teams to help the Leukemia & Lymphoma Society provide information and support to patients throughout their cancer journeys and fund its lifesaving research.
Team In Training has a program for athletes of all skill levels. There's a wide range of events including half, full and ultra marathons; hike adventures; triathlons; and cycling events. Visit http://www.teamintraining.org/sf or call 800.78.TRAIN to talk to a local Team Manager.
Stay up to date with Team In Training: like TNT SF Bay Area on Facebook, follow @TNT_SFBayArea on Twitter, or find them on Pinterest.
About Team In Training
Team In Training (TNT) offers marathon training, half-marathon training, and triathlon training in San Francisco. Individuals can also train for cycling events and adventure hikes. TNT began in 1988, when Bruce Cleland of Rye, NY formed a team that raised funds and trained to run the New York City Marathon in honor of Cleland's daughter Georgia, a leukemia survivor.
The team of 38 runners raised $322,000 for LLS's Westchester/Hudson Valley Chapter. Because of the pioneering efforts of Cleland and the Westchester/Hudson Valley Chapter, Team In Training was born and has grown into the world's largest endurance sports training program. Cleland was honored by Runner's World magazine in 2004 as one of their "Heroes of Running" for his role in establishing TNT.
Whether participants choose The Leukemia & Lymphoma Society's traditional Team In Training program or TNT Flex, a flexible, customized online training option developed by TNT's renowned coaches, they get all the support they need to cross the finish line at the marathon, half marathon, triathlon, century ride and hike adventure of their choice. Both offer a choice of world-class events, travel arrangements to an exciting destination, and a fabulous, activity-filled weekend once they're there.
About The Leukemia & Lymphoma Society
The Leukemia & Lymphoma Society (LLS), headquartered in White Plains, NY, with 68 chapters in the United States and Canada, is the world's largest voluntary health organization dedicated to funding blood cancer research and providing education and patient services. The LLS mission: Cure leukemia, lymphoma, Hodgkin's disease and myeloma, and improve the quality of life of patients and their families. Since its founding in 1949, LLS has invested more than $750 million in research specifically targeting leukemia, lymphoma and myeloma.
For more information about blood cancer, visit http://www.LLS.org or call the LLS Information Resource Center (IRC), a call center staffed by master's level social workers, nurses and health educators who provide information, support and resources to patients and their families and caregivers. IRC information specialists are available at (800) 955-4572, Monday through Friday, 9 a.m. to 6 p.m. ET.