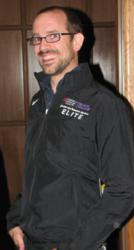 LLS volunteers are truly relentless and they are the life-blood of our organization
San Francisco, CA (PRWEB) April 20, 2012
In honor of National Volunteer Appreciation Week (April 15-21), The Leukemia & Lymphoma Society's (LLS) Team In Training (TNT) is taking the time to thank its dedicated volunteers and recognize the top fundraisers who have donated an outstanding amount of time and energy towards the ongoing race to cure blood cancer.
"LLS volunteers are truly relentless and they are the life-blood of our organization," said Lindsay Gage, Team In Training marathon director. "We are incredibly fortunate to have such dedicated and passionate volunteers. Without them, we would not be able to accomplish the work that we do to move our mission forward."
On April 17, Team In Training celebrated top fundraisers and corporate teams with a VIP reception at the City Club of San Francisco. Among those honored were Giant Partner & Chief Strategic Officer, Adam Gelling, and the Giant team.
Giant received a special spirit award for its ongoing partnership with LLS and for raising $40,000 through its participation in the Big Sur Half Marathon and the Nike Women's Marathon with TNT. Adam is a member of TNT's Executive Leadership Committee and will be attending the National LLS Volunteer Leadership Conference next week on behalf of the Bay Area chapter.
Another TNT honoree recognized for his hard work and dedication is also one of the most inspiring volunteers. David Bevilacqua is a Waldenstroms Non-Hodgkin's lymphoma survivor who joined Team In Training in 2010, the same year he finished his last chemo treatment of his ongoing battle with blood cancer.
Since then, he has immersed himself in the TNT culture, running seven marathons and raising $18,000. He plans to kick it up another notch in 2012 by taking on the San Francisco Nike Women's Marathon in July and the New York City Marathon in November with his sister and the National TNT Flex Team.
"David's story of perseverance and passion is awe-inspiring," said Megan Kilkenny, Senior Director of Marketing Communications at LLS. "He has the most amazing positive outlook on life and you can't help but be affected by it."
As the Bay Area's largest endurance sports training and charity program, TNT has trained thousands of runners, walkers, triathletes, cyclists and hikers for more than 200 events. While training, TNT participants raise funds for blood cancer research and patient services and 78% of those funds raised support LLS's mission expenses.
"The Patient Services program at LLS is made possible through the selfless work of many dedicated volunteers," said Harriet Patterson, MPH, Patient Services Manager. "From health professionals to patients and survivors, to families who have been affected, people share their wisdom, stories, and expertise with others and make a difference in the lives of newly diagnosed patients every day. We celebrate their courage, their dedication to the cause, and their generous spirits which make our work possible."
Thanks to its dedicated volunteers, the Bay Area chapter is poised to raise close to $9 million this year. Since LLS was founded in 1949, volunteer fundraising has helped nearly quadruple the survival rate for patients diagnosed with leukemia, lymphoma, myeloma and related malignancies.
Team In Training has a program for athletes of all skill levels. There's a wide range of events including half and full marathons, hike adventures, triathlons, and cycling events. Visit http://www.teamintraining.org/sf or call 800.78.TRAIN to talk to a local Team Manager.
Stay up to date with Team In Training: like TNT SF Bay Area on Facebook, follow @TNT_SFBayArea on Twitter, or find them on Pinterest.
About Team In Training
Team In Training (TNT) San Francisco chapter offers marathon training, half-marathon training, and triathlon training. Individuals can also train for cycling events and adventure hikes. TNT began in 1988, when Bruce Cleland of Rye, NY formed a team that raised funds and trained to run the New York City Marathon in honor of Cleland's daughter Georgia, a leukemia survivor.
The team of 38 runners raised $322,000 for LLS's Westchester/Hudson Valley Chapter. Because of the pioneering efforts of Cleland and the Westchester/Hudson Valley Chapter, Team In Training was born and has grown into the world's largest endurance sports training program. Cleland was honored by Runner's World magazine in 2004 as one of their "Heroes of Running" for his role in establishing TNT.
Whether participants choose The Leukemia & Lymphoma Society's traditional Team In Training program or TNT Flex, a flexible, customized online training option developed by TNT's renowned coaches, they get all the support they need to cross the finish line at the marathon, half marathon, triathlon, century ride and hike adventure of their choice. Both offer a choice of world-class events, travel arrangements to an exciting destination, and a fabulous, activity-filled weekend once they're there.
About The Leukemia & Lymphoma Society
The Leukemia & Lymphoma Society (LLS), headquartered in White Plains, NY, with 68 chapters in the United States and Canada, is the world's largest voluntary health organization dedicated to funding blood cancer research and providing education and patient services. The LLS mission: Cure leukemia, lymphoma, Hodgkin's disease and myeloma, and improve the quality of life of patients and their families. Since its founding in 1949, LLS has invested more than $814 million in blood cancer research.
For more information about blood cancer, visit http://www.LLS.org or call the LLS Information Resource Center (IRC), a call center staffed by master's level social workers, nurses and health educators who provide information, support and resources to patients and their families and caregivers. IRC information specialists are available at (800) 955-4572, Monday through Friday, 9 a.m. to 6 p.m. ET.