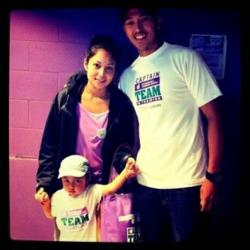 Izzy and her family have been such a source of inspiration for the TNT triathlon teams and community in general. We thought it would be helpful for other Moms to hear Melissa's words of wisdom
San Francisco, CA (PRWEB) May 15, 2012
In honor of Mother's Day, the San Francisco Bay Area Chapter of the Leukemia & Lymphoma Society's (LLS) Team In Training (TNT) asked Honored Teammate Mom, Melissa Jabonero, to share her family's journey with LLS, TNT and their fight against blood cancer.
Melissa's four-year-old daughter, Isabella, "Izzy" Faith, was diagnosed with acute lymphoid leukemia (ALL) in June of 2010 and is currently undergoing treatment.
"Izzy and her family have been such a source of inspiration for the TNT triathlon teams and community in general," says Heather Pace of LLS. "We thought it would be helpful for other Moms to hear Melissa's words of wisdom."
Melissa shared that like thousands of people, she heard about the program through the grape vine. Then, in June of last year, Melissa watched her husband complete his first triathlon with TNT in Maui and ever since then TNT has been a Jabonero family tradition.
"Fighting a disease threatening to take the life of your child requires action," says Melissa. "LLS and TNT have given us a way to fight back and they have been fantastic to us throughout our journey."
Melissa says she finds her strength to get through the various phases of her family's cancer journey in different places. Her friends, family, faith and TNT teammates have provided a support system that keeps her going. She also says that resources like LLS's patient services have been invaluable in their fight.
"LLS has been amongst the top of our helpful resources," explains Melissa. "When our daughter was first diagnosed, it was an emotional roller coaster that no one can prepare for. Without any questions, LLS even provided us with some money which was used towards our daughter's treatment."
In situations like the Jabonero family's, it can be hard to find the right words to say. But Melissa offers the following words of advice for other mothers facing a similar health crisis in their family:
"You may not be able to control the outcome but you can definitely control your outlook. Hope and faith are two powerful things. Also, never be afraid to ask for help. From laundry to a listening ear, people will always be willing and eager to help," she says. "Take time out for yourself. It can get hectic, taking time to decompress with something as simple as a walk can do wonders. Last but not least, be the over opinionated, hand-holding, protective parent your child needs you to be. You know your child best and only you can be the voice for them."
Team In Training has a program for athletes of all skill levels. There's a wide range of events including half and full marathons, hike adventures, triathlons, and cycling events. Visit http://www.teamintraining.org/sf or call 800.78.TRAIN to talk to a local Team Manager.
Stay up to date with Team In Training: like TNT SF Bay Area on Facebook, follow @TNT_SFBayArea on Twitter, or find them on Pinterest.
About Team In Training
Team In Training (TNT) San Francisco chapter offers marathon training, half-marathon training, and triathlon training. Individuals can also train for cycling events and adventure hikes. TNT began in 1988, when Bruce Cleland of Rye, NY formed a team that raised funds and trained to run the New York City Marathon in honor of Cleland's daughter Georgia, a leukemia survivor.
The team of 38 runners raised $322,000 for LLS's Westchester/Hudson Valley Chapter. Because of the pioneering efforts of Cleland and the Westchester/Hudson Valley Chapter, Team In Training was born and has grown into the world's largest endurance sports training program. Cleland was honored by Runner's World magazine in 2004 as one of their "Heroes of Running" for his role in establishing TNT.
Whether participants choose The Leukemia & Lymphoma Society's traditional Team In Training program or TNT Flex, a flexible, customized online training option developed by TNT's renowned coaches, they get all the support they need to cross the finish line at the marathon, half marathon, triathlon, century ride and hike adventure of their choice. Both offer a choice of world-class events, travel arrangements to an exciting destination, and a fabulous, activity-filled weekend once they're there.
About The Leukemia & Lymphoma Society
The Leukemia & Lymphoma Society (LLS), headquartered in White Plains, NY, with 68 chapters in the United States and Canada, is the world's largest voluntary health organization dedicated to funding blood cancer research and providing education and patient services. The LLS mission: Cure leukemia, lymphoma, Hodgkin's disease and myeloma, and improve the quality of life of patients and their families. Since its founding in 1949, LLS has invested more than $814 million in blood cancer research.
For more information about blood cancer, visit http://www.LLS.org or call the LLS Information Resource Center (IRC), a call center staffed by master's level social workers, nurses and health educators who provide information, support and resources to patients and their families and caregivers. IRC information specialists are available at (800) 955-4572, Monday through Friday, 9 a.m. to 6 p.m. ET.