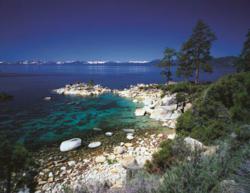 If you've ever wanted to compete in an Ironman event, this is the perfect chance to do so
San Francisco, CA (PRWEB) June 21, 2012
The Leukemia & Lymphoma Society's (LLS) Team In Training (TNT), the largest Bay Area triathlon training and charity program, announces that the latest addition to its extensive list of events is the first annual Ironman Lake Tahoe triathlon, which takes place on September 22, 2013. Training for the event will begin in November 2012 with the TNT IronTeam.
"If you've ever wanted to compete in an Ironman event, this is the perfect chance to do so," said Mike Kyle, Head Coach of TNT's IronTeam. "While you will still get our unique Team In Training support and camaraderie, our USA Triathlon certified coaches utilize the latest training methodologies such as video analysis, lactate threshold, and power analysis to get you to the finish line no matter what your triathlon experience level."
The Ironman foundation announced Lake Tahoe as its newest location for the renowned triathlon last week, opening registration on June 18 and selling out within the first 24 hours.
Individuals who train with TNT for an Ironman-distance triathlon do so in a supportive team environment and with professional, flexible coaching. The 9-10 month program fully prepares athletes for the event, which includes a 2.4-mile swim in the pristine waters at the historic Kings Beach, a spectator-friendly 112-mile bike course and a marathon through one of the world's most scenic stretches.
"Whether you are an Ironman veteran looking for a PR, or a first time triathlete looking to check off another item on your bucket list, we have a program that will accommodate your experience level," said Kyle. "Not to mention you'll achieve your goals while helping to create a world without blood cancer."
The TNT spring training season kicks off on November 10, 2012 for new athletes and alumni. TNT is now recruiting for the IronTeam, which will have training programs for three events that athletes can choose from: the Ironman Lake Tahoe, the Vineman Triathlon in July 2013 and the Subaru Ironman Canada in August 2013.
As members of TNT train for their chosen events, they also work towards their individual fundraising goals and ultimately help LLS fund important blood cancer research and other life-saving initiatives.
Anyone interested in joining the San Francisco Bay Area marathon training and endurance sport training group can find out more by attending an information meeting starting on June 27, 2012, visiting http://www.teamintraining.org/sf or calling 800.78.TRAIN to talk to a local Team Manager.
Stay up to date with Team In Training: like TNT SF Bay Area on Facebook, follow @TNT_SFBayArea on Twitter, or find them on Pinterest.
For more information about the IRONMAN Lake Tahoe triathlon, visit Ironmanlaketahoeca.com.
About Team In Training
The Greater San Francisco Bay Area Chapter of Team In Training (TNT) offers marathon training, half-marathon training and triathlon training. Individuals can also train for cycling events and adventure hikes. TNT began in 1988, when Bruce Cleland of Rye, NY formed a team that raised funds and trained to run the New York City Marathon in honor of Cleland's daughter Georgia, a leukemia survivor.
The team of 38 runners raised $322,000 for LLS's Westchester/Hudson Valley Chapter. Because of the pioneering efforts of Cleland and the Westchester/Hudson Valley Chapter, Team In Training was born and has grown into the world's largest endurance sports training program. Cleland was honored by Runner's World magazine in 2004 as one of their "Heroes of Running" for his role in establishing TNT.
Whether participants choose The Leukemia & Lymphoma Society's traditional Team In Training program or TNT Flex, a flexible, customized online training option developed by TNT's renowned coaches, they get all the support they need to cross the finish line at the marathon, half marathon, triathlon, century ride and hike adventure of their choice. Both offer a choice of world-class events, travel arrangements to an exciting destination, and a fabulous, activity-filled weekend once they're there.
About The Leukemia & Lymphoma Society
The Leukemia & Lymphoma Society (LLS), headquartered in White Plains, NY, with 68 chapters in the United States and Canada, is the world's largest voluntary health organization dedicated to funding blood cancer research and providing education and patient services. The LLS mission: Cure leukemia, lymphoma, Hodgkin's disease and myeloma, and improve the quality of life of patients and their families. Since its founding in 1949, LLS has invested more than $814 million in blood cancer research.
For more information about blood cancer, visit http://www.LLS.org or call the LLS Information Resource Center (IRC), a call center staffed by master's level social workers, nurses and health educators who provide information, support and resources to patients and their families and caregivers. IRC information specialists are available at (800) 955-4572, Monday through Friday, 9 a.m. to 6 p.m. ET.