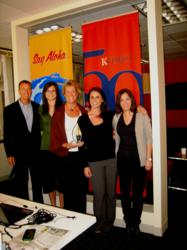 It's extremely gratifying to know we're making a difference for those suffering from leukemia and lymphoma, while pushing ourselves to new physical accomplishments with the half and full marathons
San Francisco, CA (PRWEB) September 27, 2012
Mary Jo Ferris and the San Francisco Kforce office were honored with the LLS Blood Drop award on August 28, 2012. Kforce is a professional staffing and solutions firm whose employees participated in LLS's Team In Training program, raising funds to further blood cancer research.
In 2011, Kforce had 30 employees participate nationwide in the Team In Training program, raising nearly $80,000. With only 2 additional employee participants in 2012, they reached the landmark achievement of raising over $100,000. Corporate TNT teams who raise over $100,000 are honored with the special recognition of the LLS Blood Drop award. Kforce is the first corporate team from the Greater San Francisco Bay Area chapter to receive this recognition.
Mary Jo Ferris, the VP of Strategic Accounts at the San Francisco Kforce office, has been involved with TNT since 2002 as a participant, volunteer and coach. In 2011, she decided to get her company involved through their Stewardship & Community program. Kforce employees from across the country were able to train in their local region, thanks to the support of the local Team In Training chapters.
The 2012 Kforce employee participants took part in 5 different endurance events, but the majority ran or walked the Dodge Rock N Roll Marathon or Half Marathon in San Diego, in June 2012. Most were first time athletes at the start of training. Many left the events with a greater sense of comradeship with their fellow employees and satisfaction in what they had accomplished. Jason Blake, Response Manager, NRC said, "I had such a great time sharing tales of pain and glory with fellow Kforce associated from markets across the nation. Accomplishing the goal to complete a marathon alongside cancer survivors is a thrill that I will never forget."
Participants in these events were also delighted that their efforts not only pushed their physical endurance, but also supported those fighting against cancer. Mark Ulrich, Market Vice President for the San Diego Kforce office said, "It's extremely gratifying to know we're making a difference for those suffering from leukemia and lymphoma, while pushing ourselves to new physical accomplishments with the half and full marathons."
Through the collaboration of these individuals, Kforce as a company will now be linked to specific cutting-edge, LLS-funded research conducted by Dr. Beverly Mitchell, whose research at Stanford University focuses on non-Hodgkins lymphoma. Her findings will be presented to Kforce in an annual progress report.
Team In Training has a program for athletes of all skill levels. There's a wide range of events including half, full and ultra marathons; hike adventures; triathlons; and cycling events. Visit teamintraining.org/sf or call 800.78.TRAIN to talk to a local Team Manager.
Stay up to date with Team In Training: like TNT SF Bay Area on Facebook, follow @TNT_SFBayArea on Twitter, or find them on Pinterest.
About Team In Training
Team In Training (TNT) San Francisco chapter offers Bay Area marathon training, half-marathon training, and triathlon training. Individuals can also train for cycling events and adventure hikes. TNT began in 1988, when Bruce Cleland of Rye, NY formed a team that raised funds and trained to run the New York City Marathon in honor of Cleland's daughter Georgia, a leukemia survivor.
The team of 38 runners raised $322,000 for LLS's Westchester/Hudson Valley Chapter. Because of the pioneering efforts of Cleland and the Westchester/Hudson Valley Chapter, Team In Training was born and has grown into the world's largest endurance sports training program. Cleland was honored by Runner's World magazine in 2004 as one of their "Heroes of Running" for his role in establishing TNT.
Whether participants choose The Leukemia & Lymphoma Society's traditional Team In Training program or TNT Flex, a flexible, customized online training option developed by TNT's renowned coaches, they get all the support they need to cross the finish line at the marathon, half marathon, triathlon, century ride and hike adventure of their choice. Both offer a choice of world-class events, travel arrangements to an exciting destination, and a fabulous, activity-filled weekend once they're there.
About The Leukemia & Lymphoma Society
The Leukemia & Lymphoma Society (LLS), headquartered in White Plains, NY, with 68 chapters in the United States and Canada, is the world's largest voluntary health organization dedicated to funding blood cancer research and providing education and patient services. The LLS mission: Cure leukemia, lymphoma, Hodgkin's disease and myeloma, and improve the quality of life of patients and their families. Since its founding in 1949, LLS has invested more than $750 million in research specifically targeting leukemia, lymphoma and myeloma.
For more information about blood cancer, visit http://www.LLS.org or call the LLS Information Resource Center (IRC), a call center staffed by master's level social workers, nurses and health educators who provide information, support and resources to patients and their families and caregivers. IRC information specialists are available at (800) 955-4572, Monday through Friday, 9 a.m. to 6 p.m. ET.