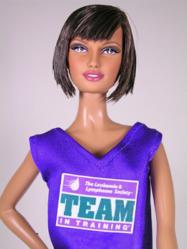 It's an empowering feeling knowing that you are not just running for yourself, but for others."
San Francisco, CA (Vocus/PRWEB) June 22, 2011
When Sandi Holder learned that The Leukemia & Lymphoma Society's Team In Training (TNT), a Bay Area marathon training group, had slots available for the Nike Women's Half Marathon, she figured that it was meant to be. Several years ago, Sandi began a fitness journey that has resulted in her losing 100 lbs. and becoming an avid runner and Cross Fit training fan. She has done several half marathons and Nike called to her. But like many, she was not selected in this year's race lottery. So she signed up with TNT to get all the training support she needs and a guaranteed spot in the Nike Women's Half Marathon. And she enlisted the help of Barbie to help her raise funds for blood cancer research and patient services.
"I have been blessed to have a high profile job with a wonderful customer base, so I knew that I absolutely could exceed the fundraising minimum," she said. "Had I gotten a Nike lottery slot, I would have simply done the event. But I think I was meant to do it through Team In Training because I could reach so many people. It's an empowering feeling knowing that you are not just running for yourself, but for others."
Sandi is in the doll business. Her shop Sandi Holder's Doll Attic sells rare and valuable dolls including Barbie. And she is very good at what she does. In fact, Sandi holds the Guinness World Record for the highest price paid for a Barbie doll: an amazing $27,000.
So it makes sense that her TNT fundraiser incorporates her passion for doll collecting. TNT Barbie is a one-of-a-kind doll complete with purple TNT singlet and water bottle. She's hand-painted and styled in Sandi's likeness and is the cornerstone of Sandi's TNT fundraising efforts. A $25 donation to The Leukemia & Lymphoma Society enters participants into an August drawing for TNT Barbie and a highly sought-after Platinum Edition Pinch of Platinum Barbie doll. It's an offer Barbie collectors cannot resist. After just one month, Sandi has raised more than $3,000 for the cause!
Barbie creator Mattel has been very supportive. When Sandi shared photos of TNT Barbie with the head of Barbie Collector, she was delighted.
TNT Barbie will be traveling with Sandi to the National Barbie Convention in Florida in late July. This is THE event for Barbie aficionados—people come from all over the world to attend. TNT Barbie will proudly be on display in a glass case with information about Sandi's fundraising and LLS. Sandi hopes she will be an inspiration to all.
When asked what keeps her focused as she logs the miles in her half-marathon training for the race in October, Sandi replied, "When I run, I put my head down and think about the world's problems and how I can help solve them. Team In Training is about being part of something that is bigger than yourself. I am looking forward to feeling that energy on race day."
Teams are forming now for Team In Training's upcoming season. Events include the Nike Women's Half Marathon (which has a few slots available through Team In Training), Big Sur Half Marathon, Marin County Triathlon, Solvang's Finest Century Ride, hike adventures in Zion National Park and Bryce Canyon, and many others.
To learn more about TNT, visit http://www.teamintraining.org/sf. To make a donation to Sandi's TNT fundraising efforts, and for a chance to win TNT Barbie and Platinum Edition Limited Barbie Doll, visit http://pages.teamintraining.org/sf/nikesf11/sholdertqi.
About Team in Training
Team In Training (TNT) offers marathon training, half-marathon training, and triathlon training. TNT began in 1988, when Bruce Cleland of Rye, NY formed a team that raised funds and trained to run the New York City Marathon in honor of Cleland's daughter Georgia, a leukemia survivor.
The team of 38 runners raised $322,000 for LLS's Westchester/Hudson Valley Chapter. Because of the pioneering efforts of Cleland and the Westchester/Hudson Valley Chapter, Team In Training was born and has grown into the world's largest endurance sports training program. Cleland was honored by Runner's World magazine in 2004 as one of their "Heroes of Running" for his role in establishing TNT.
Whether participants choose The Leukemia & Lymphoma Society's traditional Team In Training program or TNT Flex, a flexible, customized online training option developed by TNT's renowned coaches, they get all the support they need to cross the finish line at the marathon, half marathon, triathlon, century ride and hike adventure of their choice. Both offer a choice of world-class events, travel arrangements to an exciting destination, and a fabulous, activity-filled weekend once they're there.
About The Leukemia & Lymphoma Society
The Leukemia & Lymphoma Society (LLS), headquartered in White Plains, NY, with 68 chapters in the United States and Canada, is the world's largest voluntary health organization dedicated to funding blood cancer research and providing education and patient services. The LLS mission: Cure leukemia, lymphoma, Hodgkin's disease and myeloma, and improve the quality of life of patients and their families. Since its founding in 1949, LLS has invested more than $750 million in research specifically targeting leukemia, lymphoma and myeloma.
For more information about blood cancer, visit http://www.LLS.org or call the LLS Information Resource Center (IRC), a call center staffed by master's level social workers, nurses and health educators who provide information, support and resources to patients and their families and caregivers. IRC information specialists are available at (800) 955-4572, Monday through Friday, 9 a.m. to 6 p.m. ET.
###