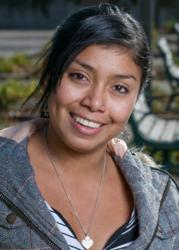 Now six years cancer free, I am thrilled to be The Leukemia & Lymphoma Society's (LLS) Light The Night Walk Honored Hero
San Francisco, CA (PRWEB) September 20, 2012
The Leukemia & Lymphoma Society has announced its 2012 Light The Night Honored Heroes, three amazing cancer survivors that are living testimonies to the power of cancer research. These three individuals are an inspiration to those participating in the San Francisco leukemia walk and other walks throughout the Bay Area.
The North Bay Honored Hero is Teresa Hurtado-Diaz, who in June 2006, at the young age of 17, was diagnosed with acute lymphoblastic leukemia (ALL). After a few months of chemotherapy, the doctors informed Teresa and her parents that the treatment did not work and notified them that her best hope was a bone marrow transplant. Luckily, Teresa found a match and had her transplant at UCSF Medical Center in December 2006. Today, she is a senior at Sonoma State University majoring in Biology. She aspires to become a pediatric oncologist and to help children diagnosed with cancer. Teresa enjoys spending time with her family and just got married this July. She says, "Now six years cancer free, I am thrilled to be The Leukemia & Lymphoma Society's (LLS) Light The Night Walk Honored Hero. I hope my story helps to educate others about blood cancers and inspires them to take action."
"Awesome" Dawson Lobao is the East Bay's Honored Hero. On January 27, 2011 at only six weeks old, Dawson was diagnosed with acute myeloid leukemia (AML), a life threatening blood cancer. After five rounds of chemotherapy and six months in the hospital, June 2012 marks one year of remission. The nickname "Awesome Dawson" was created by patients, nurses and doctors who commented on his strength and determination, and how he always handled his treatments with a smile. Dawson enjoys watching Elmo and Mickey Mouse Clubhouse, throwing balls, playing at the park, running, yelling, laughing and being a "normal" boy.
San Francisco's Honored Hero, Kaidyn Moore, was only six months old when he was diagnosed with myeloproliferative disorder. His family was told that it would eventually develop into acute myeloid leukemia (AML). About two months later, Kaidyn received a bone marrow aspiration and was started on chemotherapy that very night. Over the next ten months, Kaidyn was in and out of Children's Hospital of Oakland for treatment. It was there that he took his first steps, said his first words, and even flirted with every nurse in the oncology unit! Thanks to funds raised from the San Francisco cancer walk, Kaidyn is now a healthy three-year-old boy with an ear to ear grin who looks forward to starting school this Fall.
Light The Night Walk is a terrific opportunity to get involved in your community and take part in a cancer walk to support Bay Area cancer patients like Teresa, Kaidyn and Dawson. The funds you raise will support patient services and life-saving research.
Light The Night Walk participants, supporters and sponsors (the 2012 Walks are poised to raise close to $1 Million), are helping to pave the way for a world without blood cancers. Gather your friends and family and register today.
About Light The Night Walk
The Leukemia & Lymphoma Society's Light The Night Walk funds lifesaving research and support for people battling cancer. Friends, families and co-workers form fundraising teams and millions of consumers help by donating at retail outlets. The Light The Night Walk brings members of the community together, whether they walk as a corporate teambuilding event or in support of a loved one.
Light The Night Walk is a teambuilding event for the entire community—children, adults and seniors are all welcome. It is a casual fundraising walk with no fitness requirements and is a great opportunity. Every walker is encouraged to become a Champion For Cures by raising $100 or more to support researchers in their quest for more targeted, less toxic therapies for leukemia, lymphoma and myeloma.
Three walks will take place in the Bay Area. The North Bay leukemia walk will be held on Saturday, October 6, 2012, from 5:00 pm to 8:00 pm. Participants start at Courthouse Square in Santa Rosa. The San Francisco fundraising walk will be on Thursday, October 18, 2012, from 5:00 pm to 8:00pm starting at Union Square. The East Bay walk will take place on Saturday, October 27, 2012, from 5:00 pm to 8:00 pm starting at Civic Park in Walnut Creek. To register for a Light The Night Walk near you, visit http://www.lightthenight.org/sf.
About The Leukemia & Lymphoma Society
The Leukemia & Lymphoma Society (LLS), headquartered in White Plains, NY, with 68 chapters in the United States and Canada, is the world's largest voluntary health organization dedicated to funding blood cancer research and providing education and patient services. The LLS mission: Cure leukemia, lymphoma, Hodgkin's disease and myeloma, and improve the quality of life of patients and their families. Since its founding in 1949, LLS has invested more than $750 million in research specifically targeting leukemia, lymphoma and myeloma.
For more information about blood cancer, visit http://www.LLS.org or call the LLS Information Resource Center (IRC), a call center staffed by master's level social workers, nurses and health educators who provide information, support and resources to patients and their families and caregivers. IRC information specialists are available at (800) 955-4572, Monday through Friday, 9 a.m. to 6 p.m. ET.