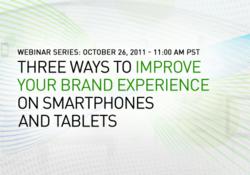 This session will provide practical tips, best practices and real-world examples for mobile marketers with an opportunity to get their most pressing questions answered.
San Luis Obispo, CA (PRWEB) October 19, 2011
LEVEL, a Rosetta company, will host a complimentary webinar on mobile marketing Wednesday, October 26 from 11 A.M. – 12 P.M. Pacific. The session "Three Ways to Improve Your Brand Experience on Smartphones and Tablets" is hosted by LEVEL executive Daniel Blackburn, Vice President | Mobile and Jason Gurley, Creative Director. They will share insights and case studies for how to begin, enhance or refocus mobile marketing efforts for brands that may be evolving in mobile or are just starting to develop their mobile strategy.
"With significant innovation in mobile experience design happening at rapid rates, we are reaching a critical junction where some companies who rushed to be mobile are putting on the brakes to prioritize long-term strategy and scalability. At the same time, other companies who haven't gotten into the game yet are trying to figure out where to start," said Daniel Blackburn, Vice President | Mobile at LEVEL. "This session will provide practical tips, best practices and real-world examples for mobile marketers with an opportunity to get their most pressing questions answered."
As part of the discussion, Blackburn and Gurley will talk about the importance of building optimal design and UX standards across smartphone and tablet experiences.
To register for the session, go to: http://ww2.rosetta.com/lp/landing_pages/mobile_webinar_register.html?jujrtyghfud692a640a5a120a285
LEVEL and Rosetta work with a number of brands to create mobile strategy roadmaps, mobile web and app experiences, marketing programs and technology platforms to support mobile initiatives. Clients include Cisco, Nationwide Insurance, OfficeMax, Qualcomm, Research In Motion and VIZIO.
About LEVEL Studios
LEVEL delivers integrated marketing and product development for global brands. Through the interplay of branded content, technology platforms and connected devices, we design a total user experience that amplifies the relationship between brand and consumer. Our methodology is proven; our behavior is adaptive.
For more information, visit http://level-studios.com.
About Rosetta
Rosetta is a consulting-centered interactive agency engineered to transform marketing for the connected world. Rosetta drives material business impact by translating deep consumer insights into personally relevant brand experiences across touch points and over time. Their differentiated capabilities and structure have enabled them to become one of the market leaders, operating as an independent brand in the Publicis Groupe of global agencies. Rosetta is ranked by Ad Age among the top U.S. digital agencies and was recently named the #1 Agency to Watch in Ad Age's Agency A-List.
Rosetta has deep industry expertise in Healthcare, Consumer Products & Retail, Financial Services, Consumer Technology, B2B and Travel & Hospitality. The combination of a patented approach to market segmentation; technological depth across platforms and devices; world class creative, design and user experience capability; scale and integrated structure; and deep vertical industry expertise have attracted many of the nation's leading brands to Rosetta. The agency's clients include Allergan, Blue Cross Blue Shield, Bristol Myers Squibb, Johnson & Johnson and Novartis in Healthcare; Coach, Express, Jos. A. Bank, OfficeMax and Valvoline in the Retail and Consumer Products sector; Citizens, M&T Bank and Nationwide in Financial Services; Marriott in Travel and Leisure; Microsoft, Rogers Communications and T-Mobile in Communications, Media and Technology; and MSC Direct, Wirtz Beverage Group and Lincoln Electric in B2B.
Rosetta is headquartered in Princeton, NJ, with additional offices in New York, Cleveland, Boston, Chicago and Toronto. Rosetta recently acquired LEVEL Studios, a leader in combining content, platforms and devices to create engaging total user experiences. The addition of LEVEL Studios, a Rosetta Company, adds west coast presence to Rosetta's footprint with offices in Los Angeles, San Luis Obispo and San Jose.
For more information, visit http://www.rosetta.com.
###