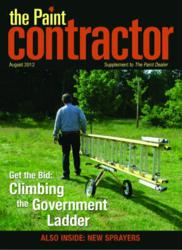 Our record couldn't be much better with (0) claims against LeveLok.
Poulsbo, Washington (PRWEB) October 08, 2012
LeveLok Corporation, The Ladder Safety Equipment Specialists, were chossen by The Paint Contractor Magazine to be featured on the Front Cover and as part of their Editorial, "Get the Bid; Climbing the Government Ladder."
LeveLok Corporation, headquartered in Poulsbo, WA., by Founder and CEO, Philip Lanzafame who built his company based on first hand industry experience, LeveLok was incorporated in 1995 with a vision to develop, manufacture, and distribute highly reliable ladder safety products.
LeveLok products have been approved by the government since 1995 and Lanzafame says, "Our record couldn't be much better with, zero (0) claims against LeveLok. Our quality control is second to none, with a return rate of less than 1/100 of 1%."
LeveLok's flagship product is the LeveLok LL-STB-1 ladder leveler. It was originally invented for those who needed the safety and stability of a leveler, but were frustrated by the poor reliability of the levelers then available. LeveLok, began manufacturing and distributing the leveler in 1996. In 1997 the company acquired the exclusive rights to the patent.
Lanzafame says, "the leveler was the perfect first product for us, the competing products were mediocre at best -- either difficult to use, cumbersome to install or had too short a life expectancy in the field. The simplicity and security inherent in the design of the LeveLok leveler/stabilizer made it the clear choice for our benchmark product."
For more information contact The LeveLok Corporation at:
http://www.levelok.com/contact-us.html
Direct: (360) 697-8629 Toll Free: 1-888-811-1727