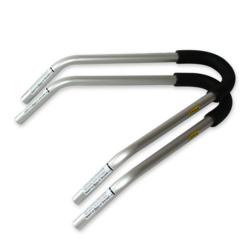 Levelok Corporation continues to revolutionize ladder safety through the development of new products
Poulsbo, WA (PRWEB) December 28, 2012
LeveLok Corporation has continued to revolutionize ladder safety through the development of new products, including the addition of a super durable, textured, rubber elbow for the Open Rung Standouts.
Weighing in at only 1.5 lbs., these sturdy aluminum brackets can be attached to most extension or sectional ladders with open rungs and once installed the Standout Brackets will protect gutters and windows.
The Open Rung Standouts with rubber elbows have been added to the list of current LeveLok products, which include; Tie Down Straps, Ladder Carrying Equipment, Ladder Stabilizing Equipment and an ever expanding line of, "KeyLok", Quick-Connect-Systems, enabling ladder users to quickly attach or detach safety equipment to their ladders. This patented system was designed to save time, reduce weight / bulk and maximize cost effectiveness for individuals with multiple ladders.
The LeveLok LL-STB-1 ladder leveler is the company's flagship product. This ladder leveler was designed and manufactured by, Philip Lanzafame (Levelok Corporations, CEO), while working as a building contractor Lanzafame needed the safety and stability of a leveler, but was frustrated by the poor reliability of the levelers that were available at the time. LeveLok began manufacturing and distributing the LL-STB-1 ladder leveler in 1996 and in 1997 acquired the exclusive rights to the patent.
For more information on Levelok Corporation and to order product please go to: http://www.LeveLok.com follow them on: https://www.facebook.com/LevelokCorporation
Levelok Web Site orders always come with a 60-Day Satisfaction Guarantee.