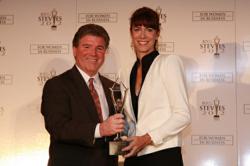 Through Leverage a Lawyer, we have helped women business owners protect themselves and at the same time have provided a flexible work option for great women lawyers
Albuquerque, NM (PRWEB) November 16, 2012
Leverage a Lawyer has been named the winner of a Gold Stevie® Award in the New Company of the Year category in the 9th annual Stevie Awards for Women in Business.
More than 1,200 nominations from organizations of all sizes and in virtually every industry were submitted this year for consideration in a wide range of categories, including Entrepreneur of the Year, Executive of the Year, Company of the Year, Mentor of the Year, Women Helping Women, and Communications Campaign of the Year, among others.
Leverage a Lawyer Founder and CEO Jessica Eaves Mathews accepted the Gold Stevie onstage at the November 9th event. Leverage a Lawyer previously received three Bronze Stevie Awards for New Product or Service of the Year for Business-to-Business Services, Diversified Service Company of the Year, and New Company of the Year as part of the American Business Awards earlier this year.
"I started my first business for independence, flexibility, and to do something of meaning for myself and for my young daughter," said Mathews. "I hope to also encourage, empower and educate other women on how to have the courage to step forward and blaze their own path to success. Through Leverage a Lawyer, we have helped women business owners protect themselves and at the same time have provided a flexible work option for great women lawyers. I'm grateful to receive recognition for what we do."
"I'm very pleased that we were able to conclude our tenth year of organizing Stevie Awards programs with a very successful Women in Business event," said Michael Gallagher, president and founder of the Stevie Awards. "This year's Stevie Award-winning women are the most accomplished, impressive group we've ever had. Their stories of success will be an inspiration to women around the globe who dream of starting and growing a business and making a difference in the world."
Details about the Stevie Awards for Women in Business and the list of Stevie Award winners are available at http://www.StevieAwards.com/Women.
About Leverage a Lawyer
Leverage a Lawyer is a national, virtual law firm that provides foundational legal services accessible to entrepreneurs and small businesses as part of Founder and CEO Jessica Eaves Mathews' mission to support businesses in all stages of growth. Their top-notch legal team is hand-selected with top attorneys from across the nation who have many years of experience serving clients in all 50 states. http://www.leverage-a-lawyer.com
About the Stevie Awards
Stevie Awards are conferred in four programs: The International Business Awards, The American Business Awards, the Stevie Awards for Women in Business, and the Stevie Awards for Sales & Customer Service. Honoring organizations of all types and sizes and the people behind them, the Stevies recognize outstanding performances in the workplace worldwide. Learn more about The Stevie Awards at http://www.StevieAwards.com.