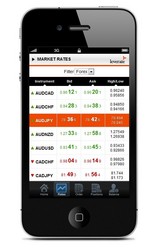 (Vocus) September 29, 2010
Leverate, a premium broker solutions provider, announced today the release of Leverate iPhone Trader for general availability. This fully compatible, broker-branded, multi-language front end for MetaTrader MT4 is linked directly to the downloadable and web versions of MT4. Leverate iPhone Trader is a universal, secure and scalable mobile trading solution that is compatible with all leading mobile devices on the market and can be fully branded with each broker's logo and colors. It enables brokers and financial institutions to reach a larger client base by delivering a seamlessly integrated premium mobile trading platform to their customers.
Full synchronization with other trading platforms ensures that any trades executed over Leverate iPhone Trader will automatically be updated in the trader's installed MT Client and Web versions as well as on the Leverate STP Platform. Leverate iPhone Trader enables clients to trade anytime, anywhere over their iPhone, Android or popular tablet devices using their MT4 login details. In addition, iPhone Trader provides many new features and exciting tools catered to the on-the-go lifestyle of today's traders. The solution has already been adopted by a number of Leverate's MT4 private label brokers, as well as other major industry players.
Increases conversion rates and generates more leads
Utilizing Leverate's rich experience in the development of browser-based trading platforms, the iPhone Trader enables brokers to enhance lead generation and conversion by delivering robust mobile forex trading capabilities to their customers. In addition to providing traders with the standard functionality – e.g., opening and closing trades, setting and editing limits and stop losses, setting stops and entry limits, monitor positions – Leverate's new MT4 mobile platform offers innovative and advanced capabilities unlike those found in other solutions:

Real-time rate streaming to the mobile device significantly improves the usage experience since it ensures that the rates are being updated constantly and rapidly
Place and monitor pending orders (limits, stop losses and entry orders)
Execute, modify and monitor live trades
Multi language support
About Leverate
Leverate is a provider of comprehensive broker solutions that deliver a full suite of innovative offerings to Forex and financial brokers around the world. Our solutions and services enable brokers and financial institutions to minimize risk and maximize profit. Reflecting our industry leadership, Leverate has rapidly become the benchmark for financial feeds in the brokerage industry.
Leverate offers cutting-edge solutions powered by breakthrough technology. Leverate provides market players with trading tools and services such as full white label solutions, Liquidity Bridge, live feeds and web & mobile applications. Dozens of brokers around the world rely on our solutions and services to increase trading volumes, achieve maximum precision and accuracy with market feeds and prevent fraud. In line with our commitment to our growing customer base, Leverate continues to develop new solutions and innovative technologies that address evolving market trends and generate better value for our customers.
For more information or a trial demo of Leverate iPhone Trader, please Contact Us / skype: leverate.sales
###