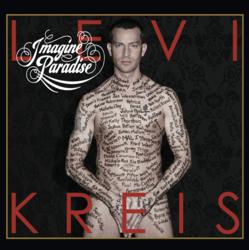 I don't know if it's a backlash to the current trends of corporate music, but I clearly see that music consumers investing in the longevity of an artist insist on material that has a greater give back.
Chicago, IL (PRWEB) June 13, 2013
Levi's success and longevity as a recording artist thrives on his ability to build an extremely intimate relationship with his fans world-wide.  His new album, Imagine Paradise, is the result of multiple fan surveys, face to face fan interviews, and hours of personal phone conversations with fans to hear what they value most from their favorite artists. All 12 songs of Imagine Paradise are custom-written theme songs based on the life stories of Levi's most generous backers.  The result is a positive, life-affirming collection of songs that modernize the sounds of the seventies when r&b and dance music emerged from the black and gay communities as vital anthems of freedom. From soaring strings and hard-edged club beats to authentic old school r&b crooning, Levi's soulful voice and compelling song craft become a vehicle by which the listener explores a deeper sense of self love, forgiving ourselves for past mistakes, and letting go of the things that no longer serve us. Levi elaborates:
"Per an overwhelming consensus from my fan base, I have found that people want to have a real conversation with me when they are listening to my music.  After seven years of intent listening, I have come to acknowledge the responsibility that music has for the well being of its listener. I'm of the opinion that the corporate music world has become grossly out of touch. Consumers stay with you forever if you are open to having an honest, vulnerable, constructive life conversation with them."
The songs can be experienced on multiple levels: an audience dancing to the synth saturated "4 Letter Word," might not realize that the storyline is about a solider whose personal life has been compromised by the military's insidious "Don't Ask Don't Tell" campaign, the Defense of Marriage Act, and the deportation of his life partner. It is Levi's genius for connecting the patchwork histories of others to his own experience that is most revealing.
Imagine Paradise releases June 20th and will be Levi's sixth album release.  His songs have been featured on several major network television shows such as The Vampire Diaries: Season 2 Finale, Sons of Anarchy, The Apprentice and has appeared on The View, David Letterman, and Late Night With Jimmy Fallon.  Levi won the 2010 Tony Award for Best Featured Actor in a Musical for originating the role of Jerry Lee Lewis in the rock n roll musical Million Dollar Quartet. He is one of Out Magazines Out100 alums with #1 Videos for MTVMusic.com and LogoTV.  
"Love Revolution" feat. QBoy will accompany the album release, following up on the radio success of the debut single "So Much Better" which was released last March. So Much Better: Official Music Video - http://www.youtube.com/watch?v=KXBMMWfqn4g