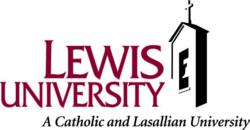 This designation again signifies Lewis University's dedication to student success, whether it is achieving 100 percent passage rate on nursing certification exams or getting accepted into graduate school
Romeoville, IL (PRWEB) September 19, 2012
Lewis University is proud to announce that The Princeton Review has recognized it as one of the "Best Midwestern Colleges" of 2013. Lewis is one of only 153 schools in the region to receive this recognition.
To make the list, institutions had to meet The Princeton Review's standards for excellence within the region. Colleges and universities were rated on academics, admissions selectivity, financial aid, campus safety, quality of life and green initiatives. The educational services company also solicited opinions from students via anonymous surveys.
In comments from the surveys, Lewis students particularly mentioned "personal attention," "a Christian influence," "a lot of financial aid," and praised the emphasis on teaching: "The class sizes are small, which allows for a lot of student-professor interaction," while instructors are "extremely dedicated" and "very accessible."
That accessibility is also a hallmark of Lewis University's online programs. Online master's degrees in Information Security, Organizational Leadership, Criminal/Social Justice, Public Safety Administration, Nursing and Aviation and Transportation are designed to help busy working professionals build marketable skills for career advancement and success.
"This designation again signifies Lewis University's dedication to student success, whether it is achieving 100 percent passage rate on nursing certification exams or getting accepted into graduate school," commented Dr. Stephany Schlachter, provost. "These honors recognize our commitment to continuous improvement as evidenced in our latest notice of reaccreditation with the Higher Learning Commission."
The university's dedication to providing an accessible, affordable, career-oriented graduate education is reflected in a tuition decrease for select online graduate programs. For a limited time, students who enroll in the online Master of Science in Criminal/Social Justice and the Master of Science in Public Safety Administration programs will receive a 25 percent discount on tuition. That adds up to savings of more than $6,800 over the course of the programs. For more information on the tuition reduction program, visit http://online.lewisu.edu/tuition-reduction.asp.
A traditional, Catholic university, Lewis is dedicating to helping students become intellectually engaged, ethically grounded, globally connected and socially responsible citizens of our world. Visit online.lewis.edu for more information about the university and its online programs.
About Lewis University:
Lewis University is a Catholic university offering distinctive undergraduate and graduate programs to more than 6,500 traditional and adult students. Lewis offers multiple campus locations, online degree programs, and a variety of formats that provide accessibility and convenience to a growing student population. Sponsored by the De La Salle Christian Brothers, Lewis prepares intellectually engaged, ethically grounded, globally connected, and socially responsible graduates. The ninth largest private not-for-profit university in Illinois, Lewis has been nationally recognized by The Princeton Review and U.S. News & World Report. Visit http://www.lewisu.edu for further information.