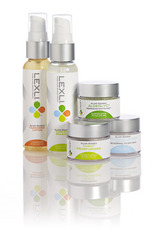 Skin care is never more top-of-mind for consumers than when they have a big event upcoming. Therefore, the Think Pink Emmy Awards Style Lounge presents us with a unique opportunity to not only ensure the skin of Emmy attendees look its best, but also to share Lexli's aloe-based approach to skin care
Fargo, ND (Vocus) September 9, 2009
The gowns! The jewels! The skin! It's Emmy® Awards season again and to ensure Hollywood television celebrities and industry A-listers put their best face forward when they walk down the Red Carpet later this month, Lexli® is doling out skin care advice and presenting some of its most coveted products at the Think Pink Emmy Awards Style Lounge. The event, which gives invited guests the opportunity to collect coveted products from some of fashion and beauty's favorite companies, will take place on September 14, 2009 at the SLS Hotel in Los Angeles. Lexli, a line of aloe-based skin care formulated by a board-certified plastic surgeon and aloe researcher, is a platinum sponsor.
While the Think Pink Emmy Awards Style Lounge is an exclusive event open only to invited Hollywood guests, Lexli is giving those not on the guest list the opportunity to be a part of the action via their computer. Jessica O'Dair, a licensed esthetician and Lexli brand ambassador who hosts a blog called Jessica's Real Skincare Solutions, will be sharing the day's events via her blog and Twitter (user name: jessicasblog). She'll report throughout the event, which runs from 11 a.m. to 10 p.m. PDT on Monday, September 14.
"Skin care is never more top-of-mind for consumers than when they have a big event upcoming. Therefore, the Think Pink Emmy Awards Style Lounge presents us with a unique opportunity to not only ensure the skin of Emmy attendees look its best, but also to share Lexli's aloe-based approach to skin care," said Dr. Ahmed Abdullah, Lexli founder/formulator and board-certified plastic surgeon.
As a platinum sponsor of the Think Pink Emmy Awards Style Longe, Lexli will present invited guests with full-size jars of AloeGlyC® Renewing Exfoliant. A patented, daily exfoliant that features a pH level near that of a doctor's office chemical peel, AloeGlyC is recognized for its ability to significant improve not only the beauty of facial skin, but its health, as well. Additionally, guests will receive a 30-day Starter Kit featuring products from Lexli's four-step skin care regimen.
Attending the event will be Dr. Ahmed Abdullah; Dr. Kay Abdullah, a board-certified general surgeon and Lexli co-founder; and O'Dair. The trio will meet with attendees to discuss their skincare concerns while suggesting improvements to their skin care regimen.
LEXLI INTERNATIONAL, INC.
Founded in 1997 by husband and wife team and aloe researchers - Dr. Ahmed Abdullah, a board-certified plastic surgeon and Dr. Kay Abdullah, a board-certified general surgeon, Lexli® offers a line of skincare products created to achieve healthier, younger-looking skin, regardless of skin type, tone or age. All Lexli product formulations, including AloeGlyC Renewing Exfoliant®, the brand's patented and celebrated daily exfoliant, are based on real science and developed with 100% pure, pharmaceutical-grade aloe vera as its principal ingredient.
Headquartered in Fargo, N.D. and run by doctors who live by the Hippocratic Oath, Lexli is committed to implementing ethical and honest business practices. Because Lexli is unlike any other over-the-counter skincare brand, the company advises that use of its products occur under the guidance of a licensed skincare expert. The Lexli line can be found online at http://www.lexli.com and in select salons and spas.
For more information, contact:
Stacey Stark
414.248.3626
stacey (dot) stark (at) stark-white (dot) com
###