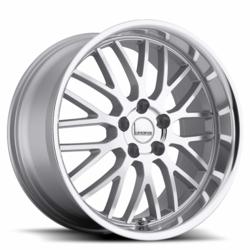 Lexus vehicles are highly tuned and rather idiosyncratic as well, so at Lumarai, we go to great lengths to assure that all of our Lexus wheels are 100% compatible with the target vehicle
Huntington Beach, CA (PRWEB) July 28, 2012
Lumarai Wheels, creators of high-performance aftermarket Lexus wheels engineered specifically for precise compatibility with Lexus vehicles, has introduced a stunning new style, named the KYA.
"Lexus owners have a proclivity to seek out the finer things in life, and that extends to everything about their vehicles," observed Terence Scheckter, president of Lumarai Wheels. "To that end, we have created the Lumarai luxury brand of Lexus wheels, and now, expand our offerings with the introduction of the new KYA wheels for Lexus," he added.
The KYA is a striking single-piece rotary-forged alloy wheel featuring a bold mesh design that is, at once, elegant and aggressive. Ten "tuning fork" spokes radiate from the center hub to a deep mirror-cut lip. The KYA is available in Gloss Black or Silver, with a mirror cut lip , or for those seeking chrome Lexus wheels, in brilliant Solid Chrome. It is ideally suited to those looking for Lexus IS350 wheels, Lexus GS350 wheels, Lexus IS250 wheels and Lexus LS460 wheels.
"Lexus vehicles are highly tuned and rather idiosyncratic as well," Scheckter explained. "So at Lumarai, we go to great lengths to assure that all of our Lexus wheels are 100% compatible with the target vehicle. " For example, the famous Lexus luxury ride is a result of rather sensitive suspension that requires wheels designed to be hub-centric, meaning the wheels are engineered to fit precisely over the center flange of the brake hub mounting pad ensuring that the wheel is concentric with the wheel bearings for a truer, better balanced wheel/tire assembly and a smoother ride. Additionally, Lexus wheels are unique in their use of flat-seat wheel nuts and Lumarai may be unique in its compatibility with this important detail. All new Lexus vehicles today come with air sensors. Lumarai wheels for Lexus are designed to accept the O.E. Lexus Air Sensor. Finally, factory wheel caps can be transferred from the standard wheel to the upgraded Lumarai Lexus rims.
The KYA is available in a wide range of sizes, from 17 inch, 18 inch, 19 inch and 20 inch, enabling Lexus owners to upsize their tire and wheel combination and to create staggered footprints, in which the rear wheels and tires are slightly larger that the front, resulting in improved traction and road holding, as well as a more aggressive look.
Eager to see what the new KYA Lexus rims would look like on your year, model and color Lexus? Visit http://www.lumaraiwheels.com/lexus-wheels-configurator/ to access the Lumarai online wheel configurator. On the same site, click on "Gallery" to see photos uploaded by actual Lumarai customers, showing off how sharp their new wheels look.
For a US or Canadian dealer near you, call 1-800-479-9723 or visit the Lumarai Wheels homepage at lumaraiwheels.com to search by zip code. Lumarai dealers are located throughout North America and worldwide, including Discount Tire Direct on the web at discounttiredirect.com.