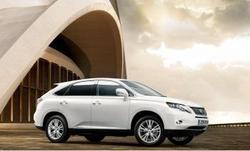 London, UK (PRWEB) March 3, 2009
Significant revisions to the Lexus Hybrid Drive powertrain will deliver substantially lower carbon dioxide emissions when the luxury crossover goes on sale in the UK this summer, setting a new benchmark in its class, well below the figures achieved by the current best-performing diesels.
Marking the third generation of the RX, the new RX 450h displays exterior and interior styling that is the latest expression of Lexus's L-finesse design philosophy. In the cabin the new dual-zone Crossover Cockpit showcases numerous technical innovations for improved safety, comfort and driving pleasure.
The new Lexus IS 250C will also be presented at Geneva, ahead of going on sale in the summer. With an all-aluminium folding roof that can be lowered in just 20 seconds, the IS 250C combines top-down driving pleasure with hard-top dynamic performance.
Sharing the same smooth 205bhp (208 DIN hp) 2.5-litre V6 engine and six-speed automatic transmission as the IS 250 sports saloon, the IS 250C has been engineered and styled for excellent handling and on-board comfort in open-top driving and equipped to meet the highest crash safety standards.
These new models will be joined on the Lexus stand by the IS F high performance saloon, GS 450h hybrid sports saloon and Lexus's hybrid flagship, the LS 600h saloon.
See the current range of Lexus Hybrid Cars at Lexus.co.uk.
###