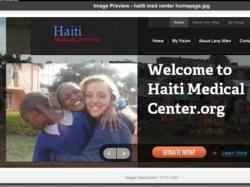 It's been my goal since I was 12 to build a medical center in Haiti. This is the year I'm going to make it happen.
New York, NY (PRWEB) February 10, 2012
Pittsburgh teenager, Lexy Allen, founder and CEO of The Blue Lion Foundation, is giving away free concert tickets to the winners of a drawing sponsored by her Blue Lion Foundation.
The tickets will be given away to whichever concert the winner of her drawing wants to attend. Lady Gaga. The Eagles. Britney Spears. U2. The Rolling Stones. It doesn't matter how big the act, or how hard it is to get the tickets.
And why is an 18-year-old high school senior giving away concert tickets?
Because Lexy is not a typical high school student. It's been her mission since she was 12 years old to build a medical center in Haiti. She even owns the website HaitiMedicalCenter.org. And now she's going to make it a reality.
Her plan is to run an online contest to raise awareness for her Haiti Medical Center project. The prize? Concert tickets to any concert the winner wants to go to. How can somebody win? Simply by telling people about Lexy's contest. For everybody a person gets to enter the contest, they get an entry into the drawing.
One winner will be selected by random draw. But that's not the only winner.
There will be a second winner. The second winner is the person who referred the first winner to the contest. So all told, Lexy will be giving out four concert tickets.
A few years back she did the same thing with Jonas Brothers tickets and she was able to create an email list of 8,000 people for her Blue Lion Foundation in a matter of three weeks. Many people who proclaim to be internet marketing genius never built a list of 8,000 people. Alexis was 14 years old when she did this.
Now it's game on. Alexis entered a video in the Vertical Response Teen Tycoon challenge. She plans on winning and using the $4000 prize money to fund a direct mail campaign and to pay for travels across the country, speaking at schools and teaching her generation that anything is possible.
When asked how she thought she could do something so big, Lexy replied, "My dad taught me since I was young to look around. Everything you see--the most amazing things--started with an idea in one person's mind. All it will take to build the medical center in Haiti is leading a group of people who are totally aligned with this vision. We will make this happen."
When Lexy was 12 years old, she was reading a teen magazine, looking at the latest hairstyles and make-up tips. She saw an article in the magazine about a young girl from Haiti who had a giant tumor on her face. The girl couldn't get treatment in Haiti, and eventually had to go to Florida to have the tumor removed.
Lexy was haunted by the thought of all the other children in Haiti who needed medical treatment, but who would never be able to get it.
Since that day, it's been Lexy's mission to build a medical center in Haiti.
Lexy Allen is now an 18-year-old high school senior. Many high school seniors are working on projects for school like term papers.
Lexy Allen is working on her own special project: building a medical center.
Some people do things because they have to. Some people do things because they want to.
Then there are people like Lexy Allen. She does things because it's what she was put here for.
watch the video she produced here.
###