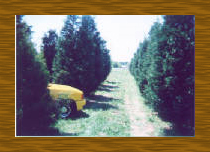 Always space privacy trees based on the rule of fours.
Lexington, NC (PRWEB) January 22, 2013
On this website, David Watterson presents information on the most popular privacy screen varieties including Leyland Cypress, Thuja Green Giant, Nellie Stevens Holly, and Yoshino Cryptomeria. The nursery also offers expert advice on the proper spacing, staking, when to plant and also which fertilizer is best based on the planting season. There is a page with information on hardiness zone. The new site also has a special page devoted to Long Island NY privacy trees.
Visit the site now to make the best plans for spring plantings. David personally answers all emails and returns calls after 6 pm. David and his wife usually come to Long Island, and neighboring states once per year to see customer sites and meet landscapers. The nursery will recommend the best landscapers based on your location. Landscape trees make the best privacy screen and this new website will answer any questions. The information on proper spacing in privacy screens alone is worth the visit.
The new site can be found at http://www.leylandcypress.org, http://www.thujagreengiant.org, and http://www.yoshinocryptomeria.com. There is $2500 minimum order as a wholesale tree nursery.