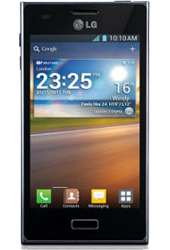 Mobile comparison experience, when coupled with deals is a very attractive proposition and buyers are looking for it all the time. The deals on LG Optimus L5 II are live on Before You Buy website and buyers can take advantage of it.
Gainsborough, Lincolnshire (PRWEB UK) 30 June 2013
The mobile industry is booming in a much unexpected way and buyer expectations are also rising along with the rising demand. Once satisfied with a zero function mobile, the modern buyer's demands have increased to a whole new level. The buyer now wants a higher resolution camera, sharing and connectivity options, large screen, compact size, countless apps and unique features that no other phone has.
Clearly, the market leader position is held by two contestants, Apple and Samsung but other players like Nokia and LG are also gearing up quick to reach to the top. With technological advancement in the processors and the easy compatibility with Android operating system is making way for better and enhanced ways to manage and complete tasks. Features that Apple and Samsung are offering are also available in LG and Nokia and in fact, the new LG Optimus L5 II has some additional features to boast of as well. It is clearly launched to slash the competition threat by Samsung Galaxy Ace 2.
Comparing various mobile phones of different companies and finding the right phone that has all the features at the best price is what the ongoing trend is. For comparison, websites like Before You Buy serve the buyers well. Here, they can come and select or shortlist their preferred model/s and then compare it to other phones to find out if the mobile is worth buying or not. When such an advantage is clubbed with good deals and offers, it becomes a big plus point for the buyer.
To offer such convenience and advantage to the buyers, the site Before You Buy has launched attractive offers on the new market entrant, LG Optimus L5 II. On this occasion, the Director of the website Before You Buy, Mr. Joseph James said, "It is our constant endeavour to offer something more than what our customer is looking for and what is more luring than a great deal that gives him best of both, his favourite mobile at the best price and some freebies or best deals & plans along with it. We always plan to offer an extra advantage to the consumer as we believe there are two things that the buyers are looking for, value for money and value addition. We offer both."
Before You Buy has become a preferred platform for people seeking a good mobile phone but who need more information on it before taking the decision. These deals not only enhance and make the buyer experience pleasant but tempt them to keep a tab on the latest deals and announcements which may talk about their favourite mobile model.
For more information and indepth analysis of the deals on offer please visit http://www.beforeyoubuy.co.uk. The organization also extends an invitation to visit its official Facebook page at http://www.facebook.com/beforeyoubuyuk.