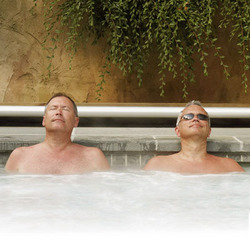 There are GLBT seniors who will choose to live in a community where sexual orientation or gender identity will not only be tolerated, but celebrated
St. Louis, MO (PRWEB) March 3, 2008
According to reports by the US Census Bureau, there are an estimated three million gay and lesbian seniors currently living in the United States. Figures from the National Gay and Lesbian Task Force indicate that this number is expected to more than double over the next 25 years as the "gayby boom" generation fully transitions into retirement. Because many gay seniors find traditional retirement communities unprepared or unwilling to meet the needs of GLBT residents, the demand for gay retirement communities is stronger than ever.
In response to this growing need, Out Properties is proud to announce that lots in their new gay retirement development, Marigold Creek, are now available for advanced purchase. Located on 32 acres just outside of Phoenix, this upscale, retirement resort for gays, lesbians and their friends and family, is raising the bar on Arizona retirement communities.
"Our research told us that there was a definite need to present gay and lesbian seniors with retirement options that provide a safe and accepting community environment," explains Debi Purvis, a Principal with Out Properties. "But we also knew that it wasn't enough to stop there, so we spared no expense in the selection of location, and the variety of features and services that will be available to our residents."
Considered by many as one of the best places to retire, ideal weather conditions and breathtaking landscapes made Arizona a natural choice for the location of Marigold Creek. The scenic property, just thirty minutes outside the booming Phoenix metro area, is surrounded by mountains, a regional lake and the pristine Sonoran desert.
In addition to an ideal desert locale, this high-end, gay retirement community offers the best of the best in available features and services, including a fitness center, day spa, poolside bar and grill, walking trails and an on-site activities director.
A Realtors' party for Marigold Creek held earlier this month at one of the Phoenix area's newest additions to the dining scene, Switch, drew over fifty attendees on the lookout for the best in Arizona retirement communities. By evening's end, over 10 percent of the 190 available units at this luxury, gay retirement community were spoken for. In the few short weeks since the event, an additional seven units have been snapped up, bringing total sales for the first month of availability to an impressive 15 percent total.
Karen Taylor, director of advocacy & training at Services and Advocacy for GLBT Elders (SAGE), offers insight into the strong response Marigold Creek has experienced in the Arizona market, explaining that while the selection of a retirement community often involves consideration of factors that are important to all seniors, often GLBT elders are looking for something more. "There are GLBT seniors who will choose to live in a community where sexual orientation or gender identity will not only be tolerated, but celebrated," said Taylor.
To learn more about one of the best places to retire in the Southwest visit http://www.marigoldcreek.com, or contact our sales team at 888-688-6818 to find out how to reserve a space at the gay retirement community to beat all Arizona retirement communities!
About Out Properties
Marigold Creek is being developed by Out Properties, a division of St. Louis-based Aventurs Development LLC. The Out Properties team is an experienced, award-winning developer of commercial and residential properties in various parts of the country. Aventurs Development and Out Properties are committed to building luxurious properties and communities that are upscale, active and welcoming.
###