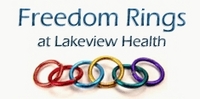 Jacksonville, FL (PRWEB) February 11, 2008
After years in the business, Lakeview Health Systems recognized a need for specialized drug rehab and addiction treatment in the gay community and after several months in operation, gone through much updating. By using the most innovative techniques in drug addiction treatment and alcoholism detox and pairing them break-out sessions to help those dealing with internal issues and potential societal pressures of living an alternative lifestyle, the gay-rehab.com program is making new strides in drug addiction treatment.
No substance abuse problems are exclusive to the gay community, but many drugs thrive in a culture of excess that may be stereotypically of that nature. Methamphetamines is a drug that is abused overwhelmingly by the LGBT community and because of that they've tailored entire programs around its abuse and paired it with social issue section that helps the addict make their lifestyle a non-issue in regards to treatment.
Gay-rehab.com highlights the specific attributes of a gay-friendly drug rehab and addiction treatment program and provides information on how to get started in researching and apply to the treatment program visit http://www.gay-rehab.com
# # #