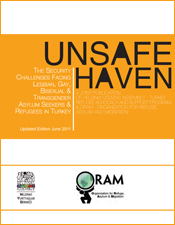 Amidst increasing threats and violence against LGBTI people, we see a beacon of hope in the steps local and international organizations are taking to protect this population. However, much more needs to be done. -- Neil Grungras, ORAM
San Francisco, CA (PRWEB) August 04, 2011
Organization for Refuge, Asylum & Migration (ORAM), a U.S.-based non-profit organization that helps refugees fleeing sexual and gender-based violence worldwide, issued a new report showing significant progress in how the UN Refugee Agency treats lesbian, gay, bisexual, transgender and intersex (LGBTI) refugees in Turkey, and urging the government of Turkey to curb the increasing anti-LGBTI violence there.
"Unsafe Haven" is co-authored with Helsinki Citizens' Assembly – Turkey, the country's leading refugee advocates. The report draws on in-depth interviews with 108 LGBTI refugees, most from Iran, who fled to Turkey for safety after being persecuted in their home countries because of their sexual orientation or gender identity.
An update on a 2009 report by the same name, "Unsafe Haven" shows how ORAM's groundbreaking work with partner organizations, including the United Nations High Commission for Refugees (UNHCR) in Turkey, has led to dramatic improvements in the treatment of LGBTI persons in the refugee system – most notably by reducing their wait times for legal status and resettlement to the U.S. and other safe countries. At the same time, the report depicts an increased environment of hostility toward sexual minorities – including 45 murders last year alone – and urges Turkey to do more to protect them.
"LGBTI refugees are already among the most vulnerable asylum seekers in Turkey. Amidst increasing threats and violence against LGBTI people, we see a beacon of hope in the steps local and international organizations are taking to protect this population. However, much more needs to be done," said Neil Grungras, Executive Director of ORAM.
Among its key recommendations, the report urges the Turkish government, civil society and the international community to take action to:
-- Enact legislation protecting LGBTI people from hate crimes and discrimination;
-- Treat LGBTI refugees with sensitivity and respect; and
-- Increase resettlement of LGBTI refugees to safe countries.
Organization for Refuge, Asylum & Migration (ORAM) is the only organization worldwide focused exclusively on helping vulnerable LGBTI refugees find safety and rebuild their lives in welcoming communities. ORAM provides refugees with free counseling and increases support for refugees through advocacy and education. Learn more at http://www.oraminternational.org.
###