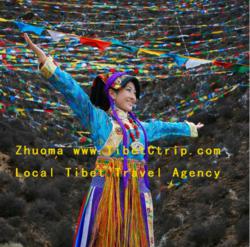 Welcome to travel to Tibet with local Tibet travel agency!
(PRWEB) June 02, 2013
Lhasa based Tibet travel agency Tibet Ctrip Travel Service-TCTS (http://www.tibetctrip.com) is helping travelers on tight schedules add Tibet to their itinerary. TCTS now offers a lineup of four-day tours that visit some of Lhasa's world-famous cultural and historical sites. Whether coming from Nepal or Mainland China, the quickest and easiest way of coming to Tibet is by air. Travelers can fly into Lhasa, spend the evening relaxing and acclimatizing to the altitude, and then enjoy two days of sightseeing before moving onto their next destination. TCTS's tours can be customized to the unique interests and preferences of each travel group; several itinerary options are available.
1. Travelers typically begin their tour with a visit to the must-see Tibet attraction Potala Palace, former home of the present and past Dalai Lama. Filled with towering stupas, ornate statues, and other cultural treasures this sprawling architectural wonder captivates the imaginations of many travelers who pass through. After Potala Palace, Jokhang Temple is a short walk away. This temple is revered by Tibetan Buddhists as one of the most holy; here travelers will see pilgrims from all corners of Tibet! On the second day, many travelers choose to visit Drepung Monastery and Norbulingka, summer palace of the Dalai Lama.
2. Another option for travelers is to, on the first day, visit Norbulingka, Pabongka Monastery, and then see the debating monks at Sera Monastery. On the second day travelers will visit Jokhang Temple and Potala Palace.
3. Those who choose to visit Tibet for its stunning natural scenery can make a trip to Lake Yamdrok. Since Lake Yamdrok is at a higher altitude than Lhasa, travelers are advised to explore Lhasa on the first day.
4. An alternative option for exploring the countryside is to visit Drigungtil Nunnery and make a stop at Tidrum Hot Spring. This is a great way to combine learning about Tibetan culture with stunning landscapes!
Just a few days in Tibet provides many opportunities to learn about its unique culture and get a taste of its stunning landscapes. These certainly aren't the only options, TCTS is happy to work with travelers who have a specific Tibet tour itinerary in mind. While the best times to visit are late spring and early autumn, a tour focused on Lhasa can be arranged for any time of the year. At least 3 flights from Kathmandu arrive in Lhasa each week and there are daily flights from several major Chinese cities, making Tibet an easy and accessible travel destination. Don't let a tight schedule get in the way of an unforgettable tour of Tibet.
Tibet tour agent TCTS Contact Address:
Post Address: Tibet Niwei International Travel Service, Co., Ltd (Niwei Building Room 302, No.13 North Linkuo Road, Lhasa, Tibet)
Tel/Fax (Lhasa area code):86-891-6342607, Mobile: 86-13628999610 (Tony), Post Code: 850000
Email: sales (at) tibetCtrip (dot) com, TibetCtrip (at) gmail (dot) com
Devin Moore, author of this release, is a travel writer and independent economic analyst based in Springfield, Missouri USA. Devin enjoys travelling throughout Asia and his economic research is currently focused on airfare pricing. In partnership with local Tibetan travel agent TCTS (tibetctrip.com), Devin publishes Tibet travel related information in order to spread awareness of Tibet and its people.