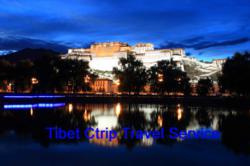 (PRWEB) June 01, 2013
New and improved budget Tibet tours by Tibet Ctrip Travel Service-TCTS (http://www.tibetctrip.com) are allowing travelers to minimize travel costs while avoiding the hassles of large group tours. TCTS is one local Tibet travel agency based in Lhasa since 1999. TCTS promotes new 4 days budget Tibet tour and this is great for those people who want to travel through Tibet to Nepal on a tight schedule and budget.
Day 1: Arrive in Lhasa. The travel group's native Tibetan guide will meet them at the airport and accompany them to Lhasa on the airport shuttle bus. After checking into their hotel, travelers are advised to take it easy while they acclimatize to the altitude: it is important to avoid intense physical activity and drink lots of water.
Day 2: Sightseeing in Lhasa. On the first full day of sightseeing travelers will visit Potala Palace, former home of the present and past Dalai Lama. This is, indisputably, one of the top must-see Tibet attractions. After Potala Palace it's a short walk to Jokhang Temple, one of the most revered sites among Tibetan Buddhists. Pilgrims from all corners of Tibet can be seen praying and circumambulating the perimeter of the temple.
Day 3: Today the tour group will leave Lhasa for Shegar Town which is 520 km from Lhasa city. On the way travelers have lots of chances to take photos of the beautiful Brahmaputra River and the surrounding snow capped peaks. Around noon time, the travel group will arrive in Shigatse, Tibet's second largest city. After lunch in Shigatse, the tour group can have 1-2 hours rest and explore before completing the drive to Shegar, travelers will arrive around 8:30pm. If the weather permits, travelers may have opportunities to enjoy distant views of Mt. Everest.
Day 4: Today, the travel group will leave Shegar early in the morning. Travelers may enjoy sun-rise views of Mt. Everest, weather permitting. From Shegar to Tibetan border town of Zhangmu, about 4-5 hours' drive covering 240 km. The scenery along the way is fantastic, travelers are advised to make sure their camera batteries are fully charged!
Tibet Ctrip Travel Service (TCTS) is a local travel agency committed to quality Tibet travel services at reasonable prices. TCTS focuses on their distinguished guests' needs and aims to maximize the value of their travel experience.
Tibet Travel Agent TCTS Contact Address:
Post Address: Tibet Niwei International Travel Service, Co., Ltd (Niwei Building Room 302, No.13 North Linkuo Road, Lhasa, Tibet)
Tel/Fax (Lhasa area code):86-891-6342607, Mobile: 86-13628999610 (Tony), Post Code: 850000
Email: sales (at) tibetCtrip (dot) com, TibetCtrip (at) gmail (dot) com