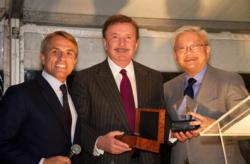 New York, NY (PRWEB) November 29, 2012
The Leading Hotels of the World recently hosted its Annual Convention, the most important global gathering on the company's calendar, at the Cape Town International Convention Centre in Cape Town, South Africa, from November 15 to 18. The theme of this year's meeting was "Differentiation." Attendees comprised an impressive group of proprietors, managing directors, general managers, and sales and marketing executives from the world's finest hotels, resorts and spas. Event participants were welcomed by Mr. Andrea Kracht, Chairman of Leading Hotels and owner of the Baur au Lac in Zurich, Switzerland. The attendees were collectively hosted at four Leading Hotels in the area: 12 Apostles Hotel and Spa, Cape Grace, Taj Cape Town, and The Table Bay Hotel.
Commenting on the convention, Leading Hotels President and CEO Ted Teng stated, "Meeting here in Cape Town has afforded us an excellent opportunity to discover a truly fascinating and unique destination. The rich culture and history, diverse landscapes and wildlife all combine to create an atmosphere and environment found nowhere else on earth. Perhaps most outstanding has been the heartfelt warmth and hospitality we are enjoying. Even the most seasoned travelers among us are savoring new experiences. Our guest speaker Ravi Naidoo brought the exceptional South African creative spirit to life for our delegates with examples of past extraordinary achievements and illustrations of the vibrant business climate, announcing that Cape Town has been named the 2014 World Design Capital."
Among the notable speakers this year were Youngme Moon, Donald K. David Professor of Business Administration & Senior Associate Dean, Chair, MBA Program at Harvard University; Michael Lorentz, CEO, Passage to Africa; Piers Schmidt, Founder & Chairman, Luxury Branding; Lisa Gill, Contributing Editor, Condé Nast Traveler; Ravi Naidoo, Founder and Managing Director, Interactive Africa & Design Indaba; and Peter Greenberg, Journalist and Travel Editor, CBS News.
This year, Leading Hotels partnered with Pack for a Purpose to make a meaningful impact on the local community. The non-profit organization provides travelers with the opportunity to work with community based projects in destinations around the world. Convention attendees contributed to the education of the children of Cape Town by giving up just a small amount of luggage space to make a big impact. Members 'packed for a purpose' and donated over 150 pounds of supplies to The Great Commission United Academy.
Additionally, awards for outstanding achievement and commitment to delivering an exceptional customer experience were presented to hotel members at a festive farewell dinner at Groot Constantia Wine Estate, the oldest and most historic wine farm in South Africa, founded in 1685. During this colorful event, awards were presented to the hotels that ranked the highest among the Commitment to Quality and Leaders Club Award winners. Honored hoteliers received a handsome Blancpain watch along with an engraved Tiffany trophy.
COMMITMENT TO QUALITY AWARDS
This award is presented to the hotels in each of five regions that ranked highest on their most recent anonymous Leading Quality Assurance inspection. The winners by region were:
Europe
*Grand Prize Winner: Hotel Splendido & Splendido Mare, Portofino, Italy
The Charles Hotel, Munich, Germany
Hotel Savoy, Florence, Italy
Çıraǧan Palace Kempinski Istanbul, Istanbul, Turkey
Middle East & Africa
Shanti Maurice - A Nira Resort, Chemin Grenier, Mauritius
Asia & Pacific
The Legian, Bali, Indonesia
North America
Acqualina Resort & Spa on the Beach, Sunny Isles Beach, FL, USA
South America, Mexico & The Caribbean
Tortuga Bay, Punta Cana, Dominican Republic
LEADERS CLUB AWARDS
The 14th Annual Leaders Club Awards were determined based upon responses to post-stay questionnaires and letters the company received from Leaders Club Members, who have consistently complimented the hotels for their exceptional welcome and attention extended to all guests, and to Club Members in particular.
This year's winners were:

Grand Prize Winner: Hotel Palace Berlin, Berlin, Germany
The Landmark London, London, England
Le Bristol Paris, Paris, France
LEADING LEGEND AWARD
The evening culminated with the announcement of the winner of the third annual Leading Legend Award who was selected based on nominations submitted by members of The Leading Hotels of the World, to recognize and acknowledge the men and women who have made meaningful contributions to the preservation and advancement of independent luxury hotels. This year's winner was hospitality veteran Guenter H. Richter, C.H.A., vice president and managing director of the The Setai, Miami Beach.
For reservations, visit http://www.LHW.com. In the USA & Canada please call 1-800-223-6800 or contact a travel professional.
About The Leading Hotels of the World, Ltd. (LHW)
When extraordinary and one-of-a-kind intersect, you have likely found a Leading Hotel. As the largest luxury hotel collection, with more than 430 of the world's greatest properties in over 80 countries, we seek out the exceptional. From grand palaces to intimate city hideaways, from ancient castles to sumptuous safari tent villages, from tropical aeries to mystical paradises, all are utterly unique and boldly independent. Each celebrates the culture of its destination, rather than trying to mask it with corporate-mandated sameness. Established in 1928 by several influential and forward-thinking European hoteliers, it started with 38 initial members. With our eight-decade-long commitment to providing unforgettable, authentic travel experiences, LHW selects only hotels that meet our high standards for quality and distinctiveness. To us, hospitality is not an industry; it's an art…and our passion.