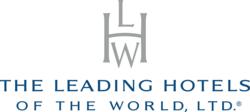 This substantial increase demonstrates the success of our individualized focused approach on generating revenue for Leading Hotels.
New York, NY (PRWEB) February 10, 2012
The Leading Hotels of the World, Ltd. achieved significant growth in revenue in 2011. The company generated hotel sales of USD 614 million, an increase of 13% over the same period in 2010.
Out of the current portfolio of 430 LHW hotels, 391 of them were full-year members for both 2010 and 2011. Despite regional turmoil around the globe – such as the Arab spring, Greek debt crisis, earthquake in Japan, and debt risk in the USA – LHW's 2011 hotel revenue for the aforementioned 391 properties (USD 570 million) not only exceeded 2011 year-end budget, but also significantly out-performed the same member portfolio for 2010 (USD 479 million) by almost 19%. Leading Hotels President and Chief Executive Officer, Ted Teng, commented, "This substantial increase demonstrates the success of our individualized focused approach on generating revenue for Leading Hotels."
Demonstrating that customers are ready to spend for what they consider true quality and value, the average daily rate across the portfolio improved sharply from the previous year, registering at USD 498 -- an increase of USD 67, or 16%.
In addition, reservations made by members of the Leaders Club, the company's signature loyalty program, yielded an ADR of USD 585, up by USD 72 compared to 2010. Leaders Club customers represent an engaged and responsive audience who demonstrate loyalty metrics such as return and reactivation rates 10 times higher than non-members. Mr. Teng added, "Leaders Club has been increasingly appealing for frequent luxury travelers, with exciting added benefits and even further special recognition at our hotels. Demonstrating true appreciation to clients who are loyal to our brand was foremost on our minds when we added complimentary breakfast and Internet access, as well as the ability to earn free nights."
The Leading Golf program contributed to a significant increase in sales at over 50 participating resorts, with an increase of 41% in 2011. This tremendous success sparked the 2012 launch of The Golf Society, an elite association that combines all the privileges and perks of Leaders Club along with a host of additional benefits designed for members-only at participating Leading Golf resorts.
An overall analysis of the top-producing countries indicates that, along with the United States, the United Kingdom, Germany, Brazil, and Russian Federation are among the top revenue generators. Furthermore, revenue doubled for LHW's Spanish and Italian language websites in 2011.
From a destination standpoint, travel to Europe, the Middle East and Africa increased on a revenue basis by over 11% since 2010. The highest-grossing destinations included the United States, Italy, France and Switzerland with growth as high as 23%.
About The Leading Hotels of the World, Ltd.
The Leading Hotels of the World, Ltd. is the largest luxury hospitality organization in the world, representing over 430 of the finest hotels, resorts and spas in over 80 countries. Its mission is to curate and champion an exclusive collection of independent properties, including grand palaces and intimate city hideaways, luxury tent enclaves and expansive self-contained resorts. Established in 1928 by several influential and forward-thinking European hoteliers, it started with 38 initial members. Its loyal customers demand levels of quality they have come to expect of the brand, while seeking authentic and enriching travel experiences. Leading Hotel members are utterly unique and boldly independent. To be considered for inclusion, a hotel must adhere to strict quality standards and master the art of extraordinary hospitality. For reservations, visit http://www.LHW.com. In the USA & Canada please call 1-800-223-6800 or contact a travel professional.
###