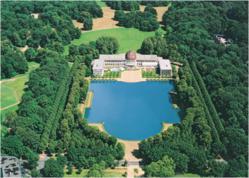 New York, NY (PRWEB) July 11, 2012
There are destinations that boast such natural beauty that they inspire visitors to set out on explorations. These Leading Hotels place an emphasis on the great outdoors, allowing guests to see the best of the region and to experience local activities.
Sometimes the great outdoors can be hiding in an urban context, witness the massive 500-acre parkland surrounding Park Hotel Bremen. The city's Bürgerpark or "Citizens' Park" is not just an impressive achievement in 19th-century landscape gardening but also one of the first people´s gardens to be created for Germany´s urban population. Where the hotel now stands, there once was a little house, which was built in 1873, two years after German unification. Several incarnations later, following World War II, the architectural team of Anker and Rosenbusch designed a building on the site in the style of a duke´s country residence, and Park Hotel Bremen officially opened in 1956. Today guests can while away the hours strolling along enchanted paths by the side of idyllic watercourses and miniature lakes through the expanse of the Bürgerpark. Yet despite this serene location, the romantic old town center is only a few minutes away. You can explore all of it on an e-bike, which lets you switch on an inconspicuous but powerful motor to receive a boost when you pedal. After your peregrinations, settle into exquisite comfort in any of the 175 richly appointed rooms and suites, savor gourmet fare in the Park Restaurant, or indulge in a soothing massage in the 1,200-square-meter spa. http://www.LHW.com/ParkBremen
The Emerald Isle invites lovers of the outdoors with its varied landscapes and rugged coastlines, and County Kerry in the southwest is perhaps Ireland's most poupular visitor destination. Renowned for its scenic beauty, Killarney is reputed to be the birthplace of Irish tourism with its colorful history, folklore, food, and music. The region is also well known for its scenic lake area, The Ring of Kerry, world-class golf, Killarney National Park, and the country's highest mountains, the Macgillycuddy Reeks. The Killarney Park Hotel is proud to be nestled in Killarney's town center and is right on the doorstep of many popular day trips and attractions. Reflecting its location, the hotel offers the ultimate in luxury, with warm contemporary accommodations, flawless service, and exceptional hospitality. Tour through the legendary lakes district, play golf on one of Kerry's many courses, explore 25,000 acres of protected parkland, or fish for trout and salmon – the outdoor options are many. On returning to the hotel, allow yourself to become cocooned in its full-service spa specializing in Elemis and Eve Lom. The gracious welcome and the elegant charm of The Killarney Park Hotel are gems in Kerry's crown! http://www.LHW.com/KillarneyPk
The fiercely imposing Dolomites Mountain range in northeastern Italy is a sports mecca in winter or summer – downhill and cross-country skiing, snow-shoeing, skating, hiking, trekking, climbing, mountain biking, kayaking and rafting. Outings can be as relaxing as strolling through high meadows or as challenging as scaling the "vie ferrati" trails laid out during World War II. Set against this awe-inspiring backdrop, Hotel La Perla is truly a pearl of welcoming luxury where guests will find themselves in the warm embrace of the Costa family, who established their tradition of hospitality more than 50 years ago. This chalet-style retreat envelopes visitors in 53 enchantingly rustic yet elegant rooms with Tyrolean or Biedermeier furnishings. The bracing mountain air can foster a good appetite, and the Michelin-starred La Stüa de Michil is the perfect place to satisfy that hunger. The informal Les Stües and L'Murin also offer relaxing venues for excellent dining and socializing. After all the outdoor activities, and maybe the late-night dancing, the luxuriously intimate adults-only spa provides soothing treatments for exercise-weary limbs. http://www.LHW.com/LaPerla
Immersed in the multi-cultural heart of Andalusia, Barcelo La Bobadilla is within easy reach of the wondrous cities of Granada, Seville, Malaga and Cordoba, with its breathtaking monuments such as the Alhambra Palace and Picasso Museum. The stunning location of the hotel, with panoramic views over its private 1,000-acre estate, lends itself to outdoor exploration and activity. In harmony with nature, La Bobadilla benefits from its surroundings, with hills and valleys covered in wild flowers, aromatic herbs, almond trees and holm oaks. This paradise is also home to several species of birds and deer that may be seen during hikes, cycling or horseback riding. A leisurely ride in a hot-air balloon gives visitors a unique perspective of the encircling olive groves and rolling hills. Comprising winding corridors and lush tropical gardens, the hotel offers 70 luxuriously appointed guest rooms and suites, each individually designed and lavishly decorated, all with opulent bathrooms providing exceptional grace and comfort. The different areas of the hotel are linked by picturesque labyrinthine pathways, courtyards filled with flowers and an imposing marble colonnade. Add to all that three excellent restaurants, riding stables, an outdoor pool, and a spa, La Bobadilla is an elegantly tranquil gateway to this fascinating part of Spain. http://www.LHW.com/Bobadilla
The most northerly of the Whitsunday Islands, Hayman has always captured the imagination of adventurers. The dream of finding a great southern land inspired a young man, Captain James Cook, to first chart these waters in 1770. Since then, the lure of escape and adventure has drawn people here. In 1947, Australian aviation pioneer, Reginald Ansett fell in love with Hayman and acquired the island. Work began on the Royal Hayman Hotel, which was opened in 1950 in anticipation of a royal visit to Australia, for which Hayman was granted a Royal Charter. Today, in addition to its sumptuously elegant accommodations and world-class dining, Hayman offers visitors a wide range of hiking terrain, from dense rainforest and mangroves to rocky inlets and secluded sand beaches, while the waters surrounding the island provide some of the best game fishing in the world, as well as excellent opportunities for snorkeling, diving or simply cruising. Guests can also take to the air in a seaplane or helicopter for exclusive outings to Hardy Reef Lagoon, in the heart of the Great Barrier Reef, to enjoy two hours of all-inclusive use of the reef pontoon, and an hour on Whitehaven Beach swimming or relaxing underneath the shade of your beach umbrella with chilled sparkling wine. http://www.LHW.com/Hayman
Tabacon Grand Spa offers the unique combination of the energy of the active Arenal Volcano, the warmth of the Tabacon hot springs and the purity of the surrounding rainforest, that blend into what many have described as "the eighth wonder of the world". Reflecting the biodiversity of northern Costa Rica, the gardens comprise an astonishing variety of plants, flowers and trees of great beauty, enclosed by the spectacular rainforest. A wide variety of fauna is also present in Tabacon, where a host of animals – including red-eyed tree frogs and two-toed sloths – claim the rainforest as their natural habitat. The resort itself offers a selection of luxurious rooms and suites, all beautifully appointed with rich handicrafts and furnishings made by Costa Rican artisans. In addition, the distinctive Grand Spa capitalizes on its unique location, with treatments and therapies including Temazcal (sweat lodge), volcanic mud wraps, mineral water balneotherapy, signature scrubs, and an open-air yoga studio. All therapies take place in one of 11 outdoor bungalows each with a Jacuzzi with water from the mineral springs. http://www.LHW.com/Tabacon
Surrounded by the Cerro Lopez and Tronador mountain peaks and the Moreno and Nahuel Huapi lakes, Llao Llao Hotel Golf and Spa is set in a 15-hectare park, including an 18-hole golf course, marina, beach, solarium, heated indoor and outdoor vanishing edge swimming-pools, Spa and Health Club with sauna and fitness center. The resort is especially appealing for ski buffs. Winter season in Patagonia offers immaculate slopes surrounded by an incredible natural landscape. While staying at Llao Llao, guests can take advantage of the resort's exclusive ski services including round-trip transfers to and from Mount Catedral, lift passes for sale, equipment rental, and après ski, access to Llao Llao Refuge, a cozy venue at the base of Cerro Catedral for enjoying a light lunch, as well as all other services to complete a unique skiing experience. Back at the resort itself, guests can relax in a range of elegantly rustic rooms and suites, appointed with handcrafted woods and warm furnishings, while five distinctive restaurants serve a variety of cuisines to satisfy chill-enhanced appetites. An on-site spa is ideal for working out any post-skiing aches and pains. http://www.LHW.com/LlaoLlao
For reservations, visit http://www.LHW.com. In the USA & Canada please call 1-800-223-6800 or contact a travel professional.
About The Leading Hotels of the World, Ltd. (LHW)
When extraordinary and one-of-a-kind intersect, you have likely found a Leading Hotel. As the largest luxury hotel collection, with more than 430 of the world's greatest properties in over 80 countries, we seek out the exceptional. From grand palaces to intimate city hideaways, from ancient castles to sumptuous safari tent villages, from tropical aeries to mystical paradises, all are utterly unique and boldly independent. Each celebrates the culture of its destination, rather than trying to mask it with corporate-mandated sameness. Established in 1928 by several influential and forward-thinking European hoteliers, it started with 38 initial members. With our eight-decade-long commitment to providing unforgettable, authentic travel experiences, LHW selects only hotels that meet our high standards for quality and distinctiveness. To us, hospitality is not an industry, it's an art…and our passion.