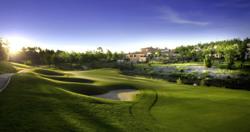 New York, NY (PRWEB) April 12, 2013
The Leading Hotels of the World boast enviable golf courses, complemented by splendid settings, exemplary dining, superb spa and other recreation facilities. Pack your clubs and start planning your next golf holiday.
Following is just a small sampling of the stellar Leading Golf opportunities in Europe:
Located in Provence, not far from Cannes and Nice, Terre Blanche Hotel Spa Golf Resort is an invitation to discovery. The resort's two golf courses were designed by Dave Thomas and inspired by the surrounding environment, blending perfectly into the valleys, cascades and ravines that make them up. Inaugurated in 2004, the Le Château course is listed as one of the best in continental Europe. Measuring 7,235 yards, it stands out for its spectacular water features, rapid greens, and great sand bunkers. This demanding course offers a splendid challenge requiring precision and shot length skills. Accessible to golfers with a handicap under 35, it provides playing conditions worthy of any championship. With steep fairways and elaborate greens, the Le Riou course is both technically challenging and fun. Calling for a large variety of strokes, this spectacular 6,567-yard course requires a strong game strategy. The view over the villages of Pays de Fayence is nothing less than vertiginous!
The greens don't get much greener than the ones on the Emerald Isle. And set against a backdrop of a 13th-century castle, the ones at Ashford Castle are inspiring in the bargain! Situated 35 kilometers north-west of Galway on the northern shores of Lough Corrib, the beautiful nine-hole, 2,996 yard, par 35 parkland course provides the perfect environment for golfers of all ages to hone their skills. The course was designed by the renowned Irish golf architect, Eddie Hackett and was created with imaginative integration of natural features and hazards, ensuring a marvelous contribution to the tough par 3's, exciting par 4's and formidable par 5. Like a lot of nine-hole courses, though, there are two sets of tees, giving you something slightly different to think about as you are playing your second round. There are ladies' tees, too, and from these the nine holes measure a total of 2,253 yards. Those who can bear to venture off the castle grounds, can enjoy rounds on some of the finest links courses in the world; Connemara, Carne, Enniscrone, Sligo and Castlerock are just a few of the many that are in easy reach of the Castle estate.
The excellent golf course of the Vidago Palace in northern Portugal was redesigned by the firm Cameron and Powell from a Mackenzie Ross original, built in 1936. The present course was completely rebuilt according to USGA specifications for tees and greens, and has been transformed into a par 72 course, enhancing the organization of International Championships, keeping the identity of the original design and faithfully reflecting the beauty, the spirit and the distinctive nature of the surrounding area. The course itself is complemented by The Club House, housed in the large stone building that once served as the main bottling facility for Vidago mineral water. Dating back to 1886, the original stonework has been carefully restored, while inside, architect Alvaro Siza Vieira has applied his unique contemporary flair to create a truly impressive space. Here, under the vaulted ceiling and central glass roof, golfers and guests will find a restaurant, bar, lounge area with WIFI access, pro shop, meeting room and locker facility.
Perhaps best known as a health and wellness destination, Grand Resort Bad Ragaz is the only resort in Switzerland to have two golf courses of its own. The 18-hole PGA Championship Course offers everything that golf enthusiasts could possibly desire. Here beginners and professionals alike find a very special challenge. The 5,700-meter course was laid out by Don Harradine for all types of play as a flat golf course which combines all the beauties of nature, with its unspoiled park setting with firs, birches and pines, natural water hazards and an impressive mountain backdrop. The excellence of the course has been recognized by the German Golf Course Association, which awarded the course five stars, the only one in Switzerland to be so honored. The 9-hole Executive Course with Golf Academy is perfect for beginners and offers ideal practice facilities. Experts will find that the course offers a particular challenge for their short game skills. After a relaxing round of golf, there's nothing to beat a culinary tête-à-tête at the acclaimed Golf Restaurant, or the relaxed Golf Bistro. Or weary players may repair to the 12,800-square-meter spa, one of the largest in Europe. The sprawling complex features ten spring-water-filled indoor and outdoor pools, three sauna and steam bath zones, Asian treatment suites and a private spa.
A bit further afield, but well worth the trip:
Guests at Fancourt along South Africa's Garden Route are spoiled for choice with three Gary Player-designed courses. Since opening in the early 90's, the Outeniqua and Montagu courses have matured and developed into two of the finest 18-hole parkland layouts in the country. A round on either is a special experience, sculpted and finished as they are, with rare attention to detail and designed with the coastal George winds in mind. The Links was added in 2000, an awe-inspiring example of design and golf-course construction. Fancourt owner Dr. Hasso Plattner took a very hands-on approach in its creation, commissioning a course which would not only be a thorough test for every golfer, but would also rank among the top courses in the world. The Links was the host venue for the 2003 Presidents Cup, which ended in an historic tie after a dramatic play-off between Tiger Woods and Ernie Els. A private club, it does offer limited tee times for hotel guests. In addition, the Fancourt Golf Academy, with a TaylorMade Fitment Center, is a world-class facility manned by full-time teaching professionals to offer expert advice and tuition. Facilities including practice greens, chipping greens, bunker facilities, a four-hole course and a driving range with open-air and undercover practice bays.
Holiday-makers at Thailand's Santiburi Beach Resort Golf & Spa can enjoy playing on the 18-hole, par 72 PGA Championship course at the Santiburi Samui Country Club, considered to be one of the most beautiful in Asia. Although it is a venue on the PGA Asian Tour, no handicap is required to play this challenging course. Located just 10 minutes from the hotel, it is set in the gentle hills of the interior of Koh Samui, where a cool light breeze often blows. The course itself has an unmistakable character, harmonizing with the surrounding mountain landscape, while a coconut palm grove so typical for Ko Samui was skillfully integrated into the course and supplemented by local tropical plants. Every hole poses a special challenge for golfers, with steep slopes up and down the hillsides that create a "multi-level course", and long, winding fairways, breathtaking gorges, and bunkers that spice up the golfing experience. Perhaps the best part – there are always incomparable views down onto the coast, bays, beach, islands, and the shining, blue-green sea! For beginners, there is a more forgiving nine-hole version where they can perfect their game. Private caddies are also available.
For reservations, visit http://www.LHW.com. In the USA & Canada please call 1-800-223-6800 or contact a travel professional.
About The Leading Hotels of the World, Ltd. (LHW)
When extraordinary and one-of-a-kind intersect, you have likely found a Leading Hotel. As the largest luxury hotel collection, with more than 430 of the world's greatest properties in over 80 countries, we seek out the exceptional. From grand palaces to intimate city hideaways, from ancient castles to sumptuous safari tent villages, from tropical aeries to mystical paradises, all are utterly unique and boldly independent. Each celebrates the culture of its destination, rather than trying to mask it with corporate-mandated sameness. Established in 1928 by several influential and forward-thinking European hoteliers, it started with 38 initial members. With our eight-decade-long commitment to providing unforgettable, authentic travel experiences, LHW selects only hotels that meet our high standards for quality and distinctiveness. To us, hospitality is not an industry; it's an art…and our passion.