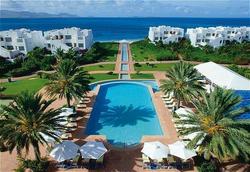 New York, NY (Vocus) March 27, 2010
Members of The Leading Hotels of the World greet 2010 with charity events, new looks, new honors and timely special offers.
Dining for a Cause
Cape Town's Leading Hotels have banded together for a wonderful cause. On April 18, four stellar chefs hailing from The Table Bay Hotel, 12 Apostles, Cape Grace and One&Only Cape Town will host a spectacular charity buffet lunch at The Table Bay Hotel to benefit The Homestead, a local non-profit organization which helps thousands of street children to reconstruct their shattered lives. There will also be an auction of various items, including artwork by the children, during the lunch.
Renovations, Refurbishments, New Facilities
On March 1, Hotel De L'Europe added 23 ultra-luxury suites to its historical property in Amsterdam. Capturing the unique ambiance of the city, the De L'Europe Dutch Masters Wing is housed in a recently acquired building, which has undergone a multi-million dollar renovation and refurbishment. Past and present blend perfectly in each of the individually appointed accommodations, with a mix of contemporary interiors and state of the art luxury, highlighted with copies of famous paintings from the Amsterdam Rijksmuseum. A heated indoor pool and a health club with the latest fitness equipment – both with inspiring views of the Amstel River – are now open. Later this year, a sumptuous new spa will open, offering a full range of aesthetic treatments and services.
The Grand Hotel Excelsior Vittoria, set high on the cliff overlooking the Gulf of Naples in the heart of Sorrento, celebrates its reopening on April 1, 2010, following a three-month refurbishment. The Winter Garden salon now features a new marble floor giving a fresher, brighter look. On the main terrace, a more spacious and comfortable lift connects the hotel to the harbor of Sorrento. Last but not least, a gym is now ready for keeping fit on holiday. Spa La Serra also reopens with a variety of new programs based on the use of organic essential oils, for guests and non-residents.
Seasonal Packages and Promotions
Hotel Sacher Wien, Vienna, Austria
Situated in the heart of the city, directly opposite the State Opera – the privately owned Hotel Sacher Wien has been an Austrian institution since its opening in 1876. Combining the city's old-world charm and modern conveniences, the hotel is at once full of tradition, and young at heart. Relax and unwind at the Sacher Spa, and let yourself be pampered in Caribbean style. Leading Ladies' Spa Package
Hotel Lord Byron, Rome, Italy
A gem of hospitality tucked away from the frenetic center of Rome near the Borghese Gardens, Hotel Lord Byron is a haven of sophistication, with just 32 rooms and suites. In honor of its 50th anniversary, the hotel is offering A Goal to Celebrate package from now until the end of 2010. Based on a three-night minimum stay, and with rates starting at EUR 400 per night, single or double occupancy.
Grand Hotel Excelsior Vittoria, Sorrento, Italy
Owned by the Fiorentino family since 1834, the Grand Hotel Excelsior Vittoria commands a spectacular view of the Bay of Naples and Mount Vesuvius. Refined guest accommodations evoke the atmosphere of a gracious private home, furnished with authentic period furniture. A private lift takes guests down to the port where they can take the public hydrofoil for excursions to Capri, Ischia and Naples. Winter Relax Package
Castello del Nero Hotel & Spa, Tavarnelle Val di Pesa, Italy
Castello del Nero is the ideal base for exploring and enjoying Tuscany, with views of vineyards, olive groves, private lakes, cypress trees and typical Tuscan villages. Located within easy reach of Florence and Siena, the hotel is a fully restored 12th century castle converted into a modern day luxury sanctuary. It also boasts the region's first exclusive destination spa designed by global spa specialist, ESPA. ESPA Tuscan Retreat
Grand Velas All Suites & Spa Resort, Riviera Maya, Mexico
Grand Velas All Suites & Spa Resort is situated along Mexico's breathtaking Riviera Maya. Exquisite suite accommodations boast stunning views, and offer amenities such as dedicated butler service, outdoor plunge pool, and indoor whirlpool bathtub. The immense world-class spa offers soothing treatments from around the world. Special Romance Package
CuisinArt Resort & Spa, Anguilla, British Virgin Islands
CuisinArt Resort & Spa is an award-winning oasis of luxury, nestled in the curve of Anguilla's Rendevous Bay, where simmering blue waters meet powdery white sand serve as the perfect backdrop for an ideal getaway. With just 93 rooms and suites arranged along a two-mile stretch of beach, the resort creates an aura of seclusion for all guests. Santorini, the gourmet restaurant, uses fresh produce selected daily from the resort's hydroponic farm to create menu of Mediterranean cuisine, infused with the spices of the Caribbean. Enjoy the Suite Escapes offer, with savings of 20% with a minimum five-night stay. Suite Escapes
Go to http://www.lhw.com/download_s/329.pdf for complete details on all packages and promotions.
Please note: All programs and packages listed above are subject to availability. Discounts and special offers cannot be combined. Local taxes and service charges are additional. Certain restrictions may apply.
About The Leading Hotels of the World, Ltd.
The Leading Hotels of the World, Ltd. is the prestigious luxury hospitality organization representing more than 450 of the world's finest hotels, resorts and spas, and is the operator of lhw.com, lhwspas.com and lhwgolf.com and – the online sources for your luxury lifestyle. As the largest international luxury hotel brand, the firm maintains offices in 22 major markets across the globe.
Since 1928, the company's reputation for excellence derives from the exacting levels of quality it demands of its members, each of which must pass a rigorous, anonymous inspection covering hundreds of meticulous criteria spanning from product to behavioral standards. This set of standards is the most stringent in the industry.
For reservations and information, visit http://www.lhw.com or telephone toll-free from the USA, Canada, Puerto Rico and the US Virgin Islands, (800) 223-6800.
###