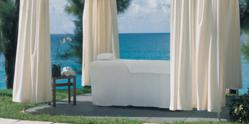 New York, NY (PRWEB) December 12, 2012
Whether you are tuning up for the holidays, or toning up for 2013, the spas at Leading Hotels will get you off on the right foot... in comfort and style! Nothing beats the simple pleasure of a stunning location. What better way to unplug and recharge than to be surrounded by infinite sky and sea, or by seemingly endless mountains? These Leading Hotels boast incredible settings—and their spas make the most of them.
The spa at the western Mauritius Royal Palm Hotel acts as a respite from the region's famous sun and sand. Treatment areas are set among rainforest-like greenery, tranquil pools and thatched roof open-air pavilions. Guests often stay in the relaxation area long after their treatment has finished, in order to extend their state of blissful calm. http://www.LHW.com/RoyalPalm
Cape Town's 12 Apostles Hotel and Spa is set against a backdrop of the famed 12 Apostles pinnacles that feature so prominently as part of Table Mountain National Park, and affords spectacular views of the coastline, sea and sky above the southern tip of the African continent. The spa menu includes treatments such as a pine-and-rosemary-infused body wrap, administered in glass-walled pavilions. http://www.LHW.com/Apostles
The 70,000-square-foot wellness center at Miami Beach's Canyon Ranch Hotel and Spa is set in a sleek high-rise on the beach and provides uninterrupted vistas. Here, a visitor's experience can be centered around new age and innovative treatments, exercise classes and excursions, life management courses, food sensitivity testing and Chinese medicine. For those looking for more traditional offerings, the spa also has such amenities as a Finnish sauna, herbal Laconium and thermal heated loungers. http://www.LHW.com/CanyonRanchMiami
When it comes to making the most of its surroundings, The Mario Botta – and Carlo Rampazzi–designed spa at the Tschuggen Grand Hotel in Arosa, Switzerland is actually a part of the landscape – the entire center was built into a mountain and construction required 28,000 meters of rock and debris to be removed. Needless to say, the spa's relaxation room offers unparalleled views. http://www.LHW.com/Tschuggen
The European Alps don't hold a monopoly on stirring views. A magnificent rustic resort fashioned after the Great Camps of the early 20th century -- Whiteface Lodge is set in the charming village of Lake Placid in upstate New York. Taking its inspiration from the complex mosaic of Adirondack Mountain life, the 5,800-square-foot facility blends the bucolic beauty of its setting with a serene ambiance, to deliver luxurious treatments – like a Maple Bitter Massage and the Whiteface Peak Facial. The result? Supreme relaxation. http://www.LHW.com/WhitefaceLodge
The One&Only Ocean Club in the Bahamas nurtures all senses before, during and after a spa treatment, thanks to its seaside location. Waves lap against the sand, and winds rustle through palm trees, are the only sounds guests hear while enjoying a floral foot bath, massage treatment and soothing tea ceremony offered in the tranquil and flower-filled garden. http://www.LHW.com/OceanClub
For reservations, visit http://www.LHW.com. In the USA & Canada please call 1-800-223-6800 or contact a travel professional.
About The Leading Hotels of the World, Ltd. (LHW)
When extraordinary and one-of-a-kind intersect, you have likely found a Leading Hotel. As the largest luxury hotel collection, with more than 430 of the world's greatest properties in over 80 countries, we seek out the exceptional. From grand palaces to intimate city hideaways, from ancient castles to sumptuous safari tent villages, from tropical aeries to mystical paradises, all are utterly unique and boldly independent. Each celebrates the culture of its destination, rather than trying to mask it with corporate-mandated sameness. Established in 1928 by several influential and forward-thinking European hoteliers, it started with 38 initial members. With our eight-decade-long commitment to providing unforgettable, authentic travel experiences, LHW selects only hotels that meet our high standards for quality and distinctiveness. To us, hospitality is not an industry; it's an art…and our passion.