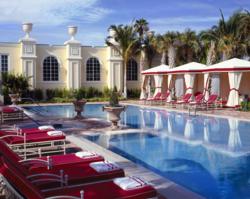 New York, NY (PRWEB) September 27, 2011
The Leading Hotels of the World is dedicated to providing outstanding and enriching travel experiences, and that same dedication extends to Leading Spas. There are Leading Spa Escapes for gentle relaxation and indulgent beauty treatments, and then there are state-of-the-art complexes that focus on curative programs from weight loss and anti-aging to Ayurvedic therapies.
*Reserve a Leading Spa Escapes package and enjoy a 30% savings on accommodations as well as a complimentary 60-minute spa service when you stay at one of 48 Leading Spas. Here are just a few.
Located on the Croisette Boulevard, facing the sea, the Hôtel Majestic Barrière in Cannes, France features the U Spa Barrière; a haven of wellbeing devoted to relaxation, serenity and recharging your mind and body. The spa is a modern and sophisticated source of harmony and tranquility. It offers a range of personalized body and beauty treatments with four treatments rooms and also includes a "shower experience", sauna, steam room, relaxation room and fitness hall. The luxurious décor creates a soothing and peaceful ambience making it the ideal sanctuary for recharging and regaining perfect balance of body and mind, protected from stress and tension. Rates are starting from EUR 262 per night, based on double occupancy. http://www.LHW.com/majesticca
The Tabacón Grand Spa Thermal Resort taps into one of the world's most beautiful locations – the thermal mineral springs set amidst the Costa Rican rainforest at the foot of the Arenal Volcano. Treatments are given in 11 open-air bungalows, all with Jacuzzis, a fully equipped gym, outdoor manicure/pedicure areas, and an open-air Yoga Center and Ayurvedic focused spa menu. The wide range of treatments and therapies features the Temazcal ritual, a native purifying and detoxifying ritual performed in a sweat lodge by a Shaman (native doctor). Tabacón's Temazcal is the first of its kind in Central America and the only one in the world in an energetic active volcanic environment. Rates are starting from USD 400 per night, based on double occupancy. http://www.LHW.com/tabacon
Nestled in the one of the largest lagoons in the Maldives, the Taj Exotica Resort & Spa is a destination for romance and rejuvenation. Its Jiva Grande Spa offers contemporary techniques blended with traditional Indian treatments. Ayurvedic therapies are performed in the sanctuary pavilion, there is a yoga deck for sunrise practice, and healthy and organic dishes are served in the dedicated spa restaurant. All products used at the spa are natural and uniquely developed from Indian herbs, essential oils and special ingredients. Traditional Indian herbal pastes and essential oils are used for more than its physical benefits; anointments have traditionally been an integral part of ceremonies and rites of passage. Deeply symbolic of the body as a revered vessel to hold divinity, they pay homage to and elevate it to a higher, more harmonious centered state of being. Rates are starting from USD 808 per night, based on double occupancy. http://www.LHW.com/tajmaldives
On Florida's Sunny Isles Beach, Acqualina Resort & Spa on the Beach is a Mediterranean-style retreat overlooking the Atlantic Ocean. Its on-site, award-winning ESPA is an Ayurvedic sanctuary specializing in holistic and meditative treatments. There are volcanic stone therapies for restoring the body's chakras and massages specializing in body firming, as well as Reiki and reflexology. The 20,000-square foot spa, spans two stories and features 11 multi-functional treatment rooms, one private Spa Treatment Suite, four Spa Express Beauty Suites, an outdoor spa pool and heated jet pool - all of which feature stunning views of the ocean. The flow of water, lighting and its reflections symbolize the cleansing process of the body and soul as they take on different forms throughout the spa. Rates are starting from USD 350 per night, based on double occupancy. http://www.LHW.com/acqualina
Nestled in China's inland lake region on a rolling hillside tea plantation, the Fuchun Resort has a natural air of calm that's reflected in its stellar spa. Inspired by the pristine surrounding environment, treatments focus on spiritual as well as physical wellness, with aromatherapy, shiatsu, tai chi and morning sessions of traditional Himalayan yoga on offer. Conceptualized and developed exclusively for Fuchun Spa, the menu features a series of pampering treatments that utilize traditional Chinese herbal elements including the resort's famed Longjing tea. All products are pure botanical extracts which are petrol chemical free and contain no additives. The spa design is contemporary with Chinese overtones; the treatment rooms are located around a small courtyard, with views of a serene blue-tiled pool with fountains. Rates are starting from CNY 3150 per night, based on double occupancy. http://www.LHW.com/fuchun
Please note: All programs/packages listed above are subject to availability. Discounts and special offers cannot be combined. Not applicable to previous bookings. Not applicable to group bookings. Local taxes and service charges are additional.
About The Leading Hotels of the World, Ltd.
The Leading Hotels of the World, Ltd. is the largest luxury hospitality organization in the world, representing over 430 of the finest hotels, resorts and spas in over 80 countries. Its mission is to curate and champion an exclusive collection of independent properties, including grand palaces and intimate city hideaways, luxury tent enclaves and expansive self-contained resorts. Established in 1928 by several influential and forward-thinking European hoteliers, it started with 38 initial members. Its loyal customers demand levels of quality they have come to expect of the brand, while seeking authentic and enriching travel experiences. Leading Hotel members are utterly unique and boldly independent. To be considered for inclusion, a hotel must adhere to strict quality standards and master the art of extraordinary hospitality. For reservations, visit http://www.LHW.com. In the USA & Canada please call 1-800-223-6800 or contact a travel professional.
###