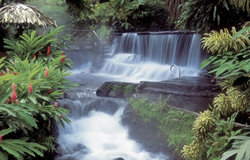 New York, NY / Boulder, CO (PRWEB) June 08, 2010
Sustainable Travel International (STI) has just announced that Tabacón Grand Spa Thermal Resort in Arenal, Costa Rica, has achieved its Luxury Eco Certification Standard (LECS), becoming the first hotel in that country to pass the intensive on-site inspection and receive this distinction. Designed to educate, as well as help luxury hotels create and implement a sustainability management framework, LECS is the first and only voluntary, global certification program of its kind. Focusing on Triple Bottom Line (People, Planet and Profit), the comprehensive standard aligns with impending global accreditation through the Tourism Stewardship Council.
With sustainable tourism on the rise, Leading Hotels spearheaded a new partnership between STI, the global non-profit leader in sustainable travel solutions, and Leading Quality Assurance (LQA), a joint venture of Leading Hotels that specializes in quality assurance, benchmarking and training to the luxury hospitality industry. Together, they created an innovative program, which carries out evaluations in five areas: policy and documentation; energy conservation; water conservation; recycling; and community. The fusion of these five components will reduce long-term operating costs, and create customer and employee good will.
In order to become LECS certified, hotels must undergo a preliminary desk audit, complimented by an on-site, third-party assessment handled by LQA. The process of becoming LECS eco-certified is challenging and requires a serious commitment on behalf of the hotel applicant, and Tabacón Grand Spa Thermal Resort exemplifies this commitment on many levels. Perhaps principal among them is the fact that two underground reservoirs provide all of the hotel's water – both hot and cold – eliminating the need to use any other energy sources for heating or cooling it. The hotel also has in place significant practices for conserving water and electricity, and recycling a variety of materials.
In addition to engaging vigorously in staff training, the hotel offers guests opportunities to support its sustainability initiatives through tree-planting projects, contributions to the local community development fund, and making local products and handcrafts available for sale in its shops.
Commenting on the resort's philosophy, Uwe Wagner, general manager, noted, "One may not be able to change the world, but one can certainly make a big difference in the place where you live, making it a better place for everyone."
Brian T. Mullis, President of Sustainable Travel International stated, "The Luxury Eco Certification Standard has set a new precedent in the luxury accommodation sector. An increasing number of five-star hoteliers around the world are applying for eco-certification. They've excelled in quality and service and now want to demonstrate their commitment to helping to safeguard the natural and cultural heritage of our planet for future generations."
Several other members of The Leading Hotels of the World are slated to complete the inspection process by late summer. Hotels interested in pursuing LECS certification, can visit http://www.leadingquality.com or http://www.ecocertification.org. For more information about Leading Green, visit http://www.lhwgreen.com.
About The Leading Hotels of the World, Ltd.
The Leading Hotels of the World, Ltd. is the prestigious luxury hospitality organization representing more than 450 of the world's finest hotels, resorts and spas, and is the operator of http://www.lhw.com and http://www.lhwspas.com – the online sources for your luxury lifestyle. As the largest international luxury hotel brand, the firm maintains offices in 22 major markets across the globe.
Since 1928, the company's reputation for excellence derives from the exacting levels of quality it demands of its members, each of which must pass a rigorous, anonymous inspection covering hundreds of meticulous criteria spanning from product to behavioral standards. This set of standards is the most stringent in the industry.
For reservations and information, visit http://www.lhw.com or telephone toll-free from the USA, Canada, Puerto Rico and the US Virgin Islands, (800) 223-6800.
About Sustainable Travel International
Sustainable Travel International (http://www.sustainabletravelinternational.org) is a globally recognized non-profit organization whose mission is to promote sustainable development through responsible travel by providing programs that help travelers, businesses and destinations protect the environment, preserve cultural heritage and contribute to economic development.
###