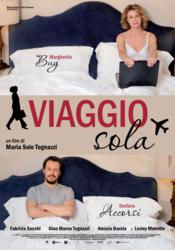 New York, NY (PRWEB) May 21, 2013
For the first time in its 85-year history, Leading Hotels has worked with filmmakers to help bring to the big screen a story about the fascinating—and often secret—life of a hotel inspector, in the new Italian major motion picture, Viaggio Sola ('I Travel Alone'). Written and directed by Maria Sole Tognazzi and recently released in Italy, the film has already garnered an impressive five David di Donatello award nominations (the Italian equivalent of the Oscars) for Best Actress, Best Actor, Best Supporting Actress, Best Screenplay and Best Editing.
Starring noted Italian actors Margherita Buy and Stefano Accorsi, the movie is centered around Irene, a Rome-based quality inspector for The Leading Hotels of the World who is responsible for evaluating luxury properties all over the globe. While her work takes her to exotic destinations and glamorous resorts, her home life is filled with ordinary routines and complicated relationships—including with her sister, who has chosen a life of motherhood and domesticity; and with her ex-boyfriend and current best friend, who is going through some sudden life changes of his own.
The film focuses on the choices and judgments that Irene faces as she tries to balance her work and personal lives, and deal with the more conventional expectations of society, while making no apologies. And it's all set against a backdrop of some of the most beautiful hotels in the world. The seven LHW members featured were chosen to convey the breadth and diversity of the types of experiences Irene enjoys through her work, which accurately reflecting the scope of the variety in the LHW portfolio. The hotels, which Tognazzi considers as having "starring roles," all appear as themselves in the film.
The film was shot on location around the world in 2012, and includes visits to the following seven Leading Hotels: Fonteverde Tuscan Resort & Spa, Borgo Egnazia, Hôtel de Crillon, Palais Namaskar, Gstaad Palace, Hotel Adlon Kempinski, and The PuLi Hotel & Spa.
*To view the official movie trailer and go behind the scenes at seven Leading Hotels, please visit http://www.LHW.com/InTheMovies/Viaggio-Sola/.
About The Leading Hotels of the World, Ltd. (LHW)
When extraordinary and one-of-a-kind intersect, you have likely found a Leading Hotel. As the largest luxury hotel collection, with more than 430 of the world's greatest properties in over 80 countries, we seek out the exceptional. From grand palaces to intimate city hideaways, from ancient castles to sumptuous safari tent villages, from tropical aeries to mystical paradises, all are utterly unique and boldly independent. Each celebrates the culture of its destination, rather than trying to mask it with corporate-mandated sameness. Established in 1928 by several influential and forward-thinking European hoteliers, it started with 38 initial members. With our eight-decade-long commitment to providing unforgettable, authentic travel experiences, LHW selects only hotels that meet our high standards for quality and distinctiveness. To us, hospitality is not an industry; it's an art…and our passion.