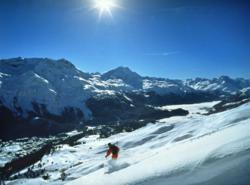 New York, NY (PRWEB) November 08, 2012
The air may be turning cooler, and the days are growing shorter, but those aren't good reasons to stay indoors! As the calendar turns inexorably toward the close of 2013, now is a great time to make plans for a winter holiday, with lots of fun-filled outdoor activities. Take a look at what these Leading Hotels have to offer!
With the charming Victoria-Jungfrau Grand Hotel & Spa in Interlaken, Switzerland, as your base, you will have access to a host of diversions. The hotel can organize experiences such as snow golf, a playful version of classic golf that requires concentration, skill and a good sense of humor to achieve success on the "green" – which is actually the "white". Once you have perfected your handicap, you can share your experiences at an igloobase – the world's only snow clubhouse. Or try ice fishing on the thick ice of nearby Lake Stockhorn. Guides are on hand to help you land your fish, and if you like, you can savor your catch grilled right away at the igloobase. While a winter barbecue may seem like a strange idea, you will quickly see that it has style, and that the campfire sparks in the evening sky are just as beautiful as any fireworks. The fur-covered seats around the fire are warm and comfortable, while the friendly atmosphere and unique ambience are a perfect prelude to the delicious food being prepared on the grill! The outing can be arranged in a forest, on a glacier, or on a mountain peak. http://www.LHW.com/VJGrandHot
It's New York winter magic at its best - to glide gracefully across the ice under a star-splashed sky while surrounded by the splendor of Manhattan. And Central Park's Wollman Rink is the perfect place to create such enchantment. The Pierre, A Taj Hotel rises 41 stories above Fifth Avenue, affording guests a bird-eye-view of the Wollman Rink from the its residential-style suites. Less than a five-minute walk from the hotel, the Rink is open for skating from late October to early April. Even those who are unsteady on their blades are welcome, and can hone their skills with daily classes for all ages and all abilities. Later, back at the hotel, weary skaters can relax over afternoon tea or a restorative cocktail at the hotel's casually sophisticated Two E Bar & Lounge. http://www.LHW.com/Pierre
Ski buffs who like the convenience of ski-in/ski-out need look no further than Hotel de Charme Les Airelles in Courchevel, France. During the 1992 Winter Olympic Games in Albertville, Les Airelles was home of the International Olympic Committee. Situated in the heart of the Jardin Alpin, the hotel makes the most of this exceptional location - a very prestigious and beautiful setting with ski runs at the door. Guests are invited to rediscover the style and authenticity of another time, in the warm Savoyard spirit of the grand chalet of the past. Located beside the slopes, the hotel offers ski-in/ski-out facilities. In addition, the ski valet is on hand to assist with all your equipment, and guide you to the Trois Vallées, one of the greatest ski areas in the world. http://www.LHW.com/Airelles
Ice skating on Boston's celebrated Frog Pond has been a favorite winter tradition for all ages since 1848. Named for soldiers who were said to catch frogs in the once stream-fed pond in the early 1800s that was used to water cattle, Frog Pond was paved with stones in 1848 and became a popular spot for year-round recreation. Now paved with concrete, the skating rink becomes a sought-after wading pool complete with gushing fountain in the warmer months. Set in the heart of Boston Common just steps from Taj Boston, and open daily from late November to mid-March, it features a large open-air rink with concessions, skate rentals, rest rooms and a warming area at Pond Cottage. The pond is managed by Skating Club Boston, which on December 31, this year, will host a New Year's Eve First Night Skating Show from 6 - 7 p.m. Public skating will be offered from 10 a.m. - 6 p.m. and 7 - 8 p.m., when skaters are encouraged to welcome the arrival of 2013 with an array of personal jumps, turns and swizzles. After a brisk turn on the ice, guests in Executive Suites can return to the hotel and curl up by the wood-burning fireplace in their living rooms. http://www.LHW.com/TajBoston
Some member hotels have also devised tempting packages to help you make the most of the seasonal activities available in their destinations. Here are just two examples:
A ride down the St. Moritz bobsled run -- the world's one and only natural ice run – at speeds of 130 kilometers an hour is 75 seconds of pure exhilaration – especially as you head in to the legendary Horse Shoe Corner. The Carlton Hotel helps you get your seat on a four-man sled – accompanied by a skilled pilot and brakeman – with the Some Like It Fast offer, which is available from January to March 4, 2013. The package includes three-nights' accommodation in a suite or junior suite; daily buffet breakfast; one high-speed bobsled ride on the St. Moritz Olympic Bobsled Run with commemorative certificate and badge; one 50-minute classic full-body massage per person; four-course dinner daily; butler service; access to the spa; and transfer to the Corviglia mountain railway as well as to the St. Moritz station and Samedan Airport. Rates start from CHF 2883, single occupancy; CHF 3506, double occupancy. Booking code is PB. http://www.LHW.com/CarltonStMoritz
Vail, Colorado, is one of the most beloved destinations in the Rocky Mountains, boasting a host of winter diversions: downhill and cross-country skiing, snowshoeing, dog sledding and snowmobiling. This December, the village celebrates its 50th anniversary, and to help get the party started, Sonnenalp has created a four-night activities-filled package including period fashion shows, films, picnics, traditional après ski parties, and more. From December 12 to 16, 2012, take advantage of the 50th Anniversary Package, priced from USD 475 per night, single; USD 625 per night, double; that include accommodations; daily breakfast, lunch and dinner, including two beverage vouchers per person, per dinner; and all scheduled events, excluding lift tickets. Four-night stay is required. Booking code is S12. http://www.LHW.com/Sonnenalp
For reservations, visit http://www.LHW.com. In the USA & Canada please call 1-800-223-6800 or contact a travel professional.
About The Leading Hotels of the World, Ltd. (LHW)
When extraordinary and one-of-a-kind intersect, you have likely found a Leading Hotel. As the largest luxury hotel collection, with more than 430 of the world's greatest properties in over 80 countries, we seek out the exceptional. From grand palaces to intimate city hideaways, from ancient castles to sumptuous safari tent villages, from tropical aeries to mystical paradises, all are utterly unique and boldly independent. Each celebrates the culture of its destination, rather than trying to mask it with corporate-mandated sameness. Established in 1928 by several influential and forward-thinking European hoteliers, it started with 38 initial members. With our eight-decade-long commitment to providing unforgettable, authentic travel experiences, LHW selects only hotels that meet our high standards for quality and distinctiveness. To us, hospitality is not an industry; it's an art…and our passion.