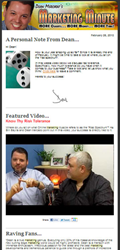 Video is no longer the wave of the future... it is the wave of the NOW!
Hauppauge, NY (PRWEB) February 28, 2013
Online Marketing Muscle, a Long Island Internet Marketing Company reveals a significant improvement in the responsiveness of its email newsletter subscribers by simply integrating video as the feature article of its popular email newsletter the "Marketing Minute".
Dean Mercado, CEO and President of Online Marketing Muscle shares, "Since switching our newsletter over from an audio based format to video, we have seen a sizable increase of over 29% in our subscribers opening our "Marketing Minute" newsletter. More importantly though, is that the click-through rate has almost doubled. Our subscribers have become more responsive to our content. Bottom line... a more responsive audience has led to increased sales and growth!"
Bill Baylis, COO of Online Marketing chimes in, "Besides the video newsletter being more effective marketing medium for us, we have actually found it easier, quicker and more cost effective to produce... very important to a small business such as ours."
It appears that small businesses across the country have begun to figure it out. Leveraging video into their everyday marketing has not only become affordable, but both practical and effective as well.
According to popular video sharing website YouTube, every month over 800 million unique users visit their website watching over 4 billion hours of video.
Mercado continues, "I know it's a bit of a cliché however people really do buy from people they know, like and trust. Video is a perfect medium to facilitate and expedite that process... it's that simple!"
For more information about Online Marketing Muscle and/or the use of video for small business marketing, visit https://OnlineMarketingMuscle.com/.
About Online Marketing Muscle
A Long Island based Internet marketing consulting company, Online Marketing Muscle helps service-based small and mid-sized businesses use the Internet in building their visibility and credibility. The company combines Internet Marketing Coaching and Internet Marketing Consulting to help clients focus on solutions right for them to find the best path to achieving success.
About Dean Mercado
Dean Mercado, President and CEO of Online Marketing Muscle is a well-respected marketing coach, strategist, author, and speaker with expertise on helping small business and independent professionals leverage the power of the Internet to increase their visibility, credibility, and reach within their target market.
About Bill Baylis
Bill Baylis COO of Online Marketing Muscle is a "business-turnaround expert" who has made creating new revenue generation methodologies, operational procedures, sales techniques and marketing strategies for business his life's work.