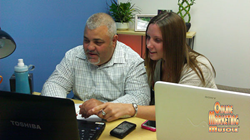 At Online Marketing Muscle we are continually amazed at how the youth easily and readily adapt and adopt cutting edge technologies into everyday life... that's the kind of talent we love further developing at our company!
Hauppauge, NY (PRWEB) February 27, 2013
While some companies cry "foul" when it comes to the economy, Long Island Internet Marketing Company Online Marketing Muscle takes a dose of its own business coaching medicine and charges forward regardless by tapping into Long Island's best and brightest youth with an internship program.
"In a challenging economy, leverage is a key to growth" says Dean Mercado, Online Marketing Muscle's President and CEO. "Maximizing every dollar is a must and a properly planned out internship program can be just the answer for companies looking to not only survive but thrive."
Bill Baylis, Online Marketing Muscle's COO adds, "We can't forget that it's tough out there on our rising, young business stars. We need to do all we can do to help them acclimate to an rapidly changing business environment."
Baylis continues, "We are a marketing coaching company. Leveraging the very same proven coaching methodologies we use to grow multimillion dollar business clients to grow our youth is a win-win."
Mercado chimes in reflecting on his own personal experience, "I am the product of an excellent internship program. The many gifts that I was given over 20 years ago still serve me, my family, my team, and our clients today. For that I am most grateful! It's that gratitude that solidified for us that instituting an internship program of our own was a move we needed to make."
The High School Career / Internship Teacher for Online Marketing Muscle's intern reported on his excitement, "I just met with him and he is over the top excited about his experience so far. He said that he learned more in these couple of weeks than he did in all the business classes he has taken at our high school!"
"That kind of excitement is contagious," Mercado stated. "I like to think that I brought that same type of energy and enthusiasm as an intern as well."
Over the next several months, Online Marketing Muscle intends to bring on several more motivated interns seeking to learn social media, website design, marketing and sales.
To learn more about the Online Marketing Muscle internship program, call (631) 730-8285 or visit their web site at https://onlinemarketingmuscle.com/careers/.
About Online Marketing Muscle
A Long Island based Internet marketing consulting company, Online Marketing Muscle helps service-based small and mid-sized businesses use the Internet in building their visibility and credibility. The company combines Internet Marketing Coaching and Internet Marketing Consulting to help clients focus on solutions right for them to find the best path to achieving success.
About Dean Mercado
Dean Mercado, President and CEO of Online Marketing Muscle is a well-respected marketing coach, strategist, author, and speaker with expertise on helping small business and independent professionals leverage the power of the Internet to increase their visibility, credibility, and reach within their target market.