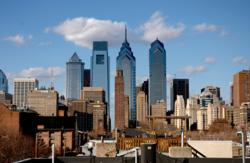 Philadelphia, PA (PRWEB) March 16, 2012
In only three years, the Easter outreach program at Philadelphia's liberti church has grown from a modest effort to provide Easter dinners for a few families to a thriving project that will serve 1,000 dinners to Philadelphia families in need this Easter, as well as digging three water wells in the southern region of Sudan in eastern Africa.
Church administrator and Fishtown resident Ryan Egli cites the economic downturn as one of the driving forces behind the unexpected demand. When the Fishtown-based liberti church east placed an ad in neighborhood newspapers in 2010 announcing that it would offer free Easter meals to local families, pastor Joe Marlin received hundreds of calls asking for help. With community support, liberti was able to deliver about 100 meals to Fishtown-area families. In 2011, liberti expanded the program to all of its Philadelphia congregations, partnering with other churches around Philadelphia and raising $20,000 to deliver 1,000 hams and side dishes to local families in need.
This year, liberti's fundraising goal of $35,000 is 86% funded, three weeks before Easter. In addition to delivering 1,000 meals, liberti is also partnering with two African aid agencies to dig three desperately needed water wells in southern Sudan. Sudan has been devastated by war and drought in the past several years, and more than 70% of its population has no access to clean water. The agency Water Is Basic (http://www.waterisbasic.org) specializes in drilling water wells in Sudan. The Easter outreach program is also partnering with African Leadership and Reconciliation Ministries (ALARM, http://www.alarm-inc.org), an African-based and African-led Christian peacemaking group that works with local communities and factions and those in power to ensure that the wells are shared peacefully.
liberti is a network of like-minded churches from multiple denominations in the Philadelphia region and Harrisburg that seek to live, speak, and serve as the very presence of Christ in the neighborhoods and communities where they live. "Liberti" is a Latin word for "freed people"; the name invokes Philadelphia's revolutionary history as well as the deepest longing of the human spirit: liberation from sin and death, which Christ provides.
Donation checks can be sent to liberti church, 2424 East York Street, Philadelphia, PA 19125. Please write "Easter outreach" in the memo line. To volunteer to deliver Easter meals to your neighbors, please go to http://www.libertieasteroutreach.com/volunteer-for-delivery/.