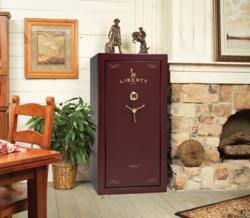 "We hope these tests help people to see the real security that our home and fire safes offer"
Payson, UT (PRWEB) January 16, 2012
Liberty Safe, a dealer of high-quality and highly-durable home and fire safe models have recently put their products to the ultimate test and are happy to announce the results of the testing. This time, the rigors of the strength tests have been taken to new levels and include the use of cars, cranes and even thugs-for-hire.
Liberty Safe home safe security testing began with two safes mounted to the front of two stock cars (one being a Liberty Safe and the other being a competitor's model). To test the result of a high-speed and very forceful impact on the safes, the one stock car drove full speed into another. To no surprise, the Liberty Safe model remained securely locked while the door on the competitor's safe was ripped clear off in the collision.
Jamey Skousen, Director of Marketing at Liberty Safe had this to say about the security testing: "We make our safes in American and engineer extra security features into our safes, producing stronger safes than other brands; but when you look at safes they often look the same, but built differently. We produced several torture tests to compare Liberty's toughness with other brands. We thought that performing these tests in a fun, yet, unorthodox way would be a great way to convey the message that Liberty safes truly are the best built safes on the planet."
Test number two lifted a new Liberty home safe (Franklin Series) along with a new competitor's safe up on a 100-foot crane to be dropped right on cement. F5 tornadoes have been shown to carry safes off hundreds of feet (see Shane Woodson story of him finding his safe 100 feet away still attached to the floor). To make the test as realistic as possible, additional weights were placed inside each safe to simulate the presence of guns and gold and other valuables that could be in a safe at any given time. Each safe was released and landed on the front edge onto cement. The welds on the competitor's safe door and body broke apart from each other, while the Liberty safe door remained fully attached, with no welds broken and the door still locked.
A third tests (part of a six series of tests) involved crowbars, sledge hammers and $1,000 were put to the test. The cash was locked into a Liberty home and fire safe while three hefty men teamed up to try and break in. If they were able to get in, the $1,000 was theirs to keep. In the end, even with $1,000 on the line, the three men weren't able to crack open the Liberty safe.
"We hope these tests help people to see the real security that our home and fire safes offer," said Skousen. "The reason why we offer a lifetime warranty on our home and fire safes is that we know our product quality is unmatched and reliable in today's world of uncertainty."
To learn more about Liberty Safe and to view the videos of the security and strength test performed on their home and fire safe products, visit LibertySafe.com.
ABOUT LIBERTY SAFE
Liberty Safe and Security Products, Inc. is the #1 seller of full-sized home, gun and fire safes in the U.S. The company offers the broadest line safes available in the market today. The company's products are offered under many popular brands – Liberty, National Security, Freedom Security and Centurion. They also produce private labels like Cabela's, Remington, John Deere and others. Liberty Safe's market leadership is founded on high quality, innovative products offering superior fire protection, technologically advanced security, exquisite styling and functional storage capacity. Its products are sold through a nationwide network of full-service dealers and mass retail outlets, providing expert sales and service in more than 4,000 retail fronts. Liberty Safe offers a limited lifetime replacement warranty on its UL Listed products.
# # #