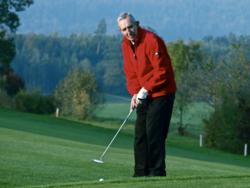 LIBERTY, MISSOURI (PRWEB) November 19, 2012
Dr. Scott Darling of the Skin and Vein Center has started an awareness campaign to help individuals suffering from leg numbness and instability.
The campaign was initiated after Dr. Darling, a vein specialist in Kansas City, began working with a patient who had developed numbness in his lower legs and feet causing loss of balance. The symptoms were so severe that the patient was no longer able to play golf, one of his favorite pastimes in retirement.
Doctors told the patient that the numbness and loss of stability were something he would have to live with for the rest of his life. After hearing that, the patient came to see Dr. Darling. who told him that all of his symptoms could be caused by the severity of his vein disease.
Within a short period after Dr. Darling began treating his venous disease with Endovenous Laser Treatment, the patient's symptoms of peripheral neuropathy completely resolved. The patient is now back on the golf course at 79 years old. He is enjoying an active life, playing 18 holes of golf without a cart. Undiagnosed diseases like these cause people to live with a lower quality of life.
Dr. Darling wants to raise awareness with his "Swing for life. Don't let the vein take your game" campaign. The campaign's goal is to inform people that reduced quality of life due to venous disease may be completely reversible, thus allowing patients to lead a fulfilling, active life for years to come.
About The Skin & Vein Center
The Skin & Vein Center is a vein and dermatology clinic that specializes in providing a broad spectrum of skin and vein procedures to the Kansas City area. Its mission is to help its patients maintain vein health and protect their "One Skin" using the newest pain-free methods available. Patients are involved in the decision making every step of the way, receiving a wealth of information that allows them to make their own choices regarding their healthcare. Its lead doctor, Dr. Scott Darling has been providing dermatology and vein services at the clinic for the last 12 years.
###