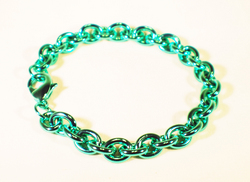 The Liberty Bracelet symbolizes individual freedom and creativity, intellectual productivity, and free market enterprise with minimal government interference.
Austin, TX (PRWEB) November 10, 2010
Shrugged Enterprises introduces the Liberty Bracelet, a brilliant chain link bracelet designed to identify and unite supporters of the Campaign for Liberty and its ideals of limited Constitutional government, free market commerce, and sound fiscal policies.
By wearing the Liberty Bracelet, owners can publicly show their support for the values listed above. A portion of all proceeds are being donated to the Campaign for Liberty and Young Americans for Liberty, further assisting their grass-roots campaigns.
Inspired by Ayn Rand's famous novel, Atlas Shrugged, The greenish-blue bracelet symbolizes perseverance, innovation, and liberty to pursue one's dreams in an intellectual and productive manner.
In the novel, Hank Rearden invents a powerful new steel alloy, Rearden Metal despite dealing with mountains of fear, uncertainty, doubt, and government bureaucracy. From his first heat of the metal, he creates a chain described in the book as shiny with a greenish-blue color.
The Liberty Bracelet's unique charm is certain to gather attention from other individuals and serve as an icebreaker for amicable political discussion. Ultimately facilitating the liberty-loving owner to foster new friendships while proudly showing support for political candidates who represent the tenets of the Campaign for Liberty.
Wearing the Liberty Bracelet implies no allegiance to any one political party or candidate. In fact, the intent of the Liberty Bracelet is to break down these barriers and unite ALL freedom loving individuals. This includes but is not limited to Republicans, Democrats, Libertarians, Tea Party supporters, etc.
Pricing and Availability
The Liberty Bracelet can be purchased at http://www.libertybracelet.com for $19.99, and comes in both men's and women's sizes. Detailed pictures of the bracelet can be found at http://www.libertybracelet.com/buy
About the Campaign for Liberty
The Campaign for Liberty was founded by Ron Paul after his 2008 presidential run to continue the momentum of of his grass roots campaign. While the Liberty Bracelet is not endorsed or directly affiliated with the Campaign for Liberty, we strongly recommend you visit campaignforliberty.com to learn more.
About Atlas Shrugged and Ayn Rand
Liberty Bracelet is not endorsed or affiliated with Ayn Rand or the Ayn Rand Institute. However, we recommend that you visit aynrand.org for information on Atlas Shrugged as well as her other groundbreaking novels.
###