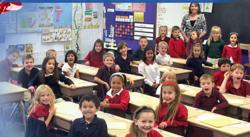 It is nice to have an outside entity such as the Foundation observe our school and point out areas that we are excelling in and areas that need improvement. The IFR report was thorough and spot-on in regards to feedback.
Fort Collins, CO (PRWEB) October 31, 2012
Liberty Common School is the first in the nation to be re-certified as a Core Knowledge Official School through the Analysis of Curriculum and Practices (ACAP) process recently developed by the Core Knowledge Foundation.
This ACAP visit was conducted over the span of a week, as school administrators were interviewed, teachers and parents were surveyed, teachers were observed in the classroom, lessons were discussed, and conversations about curriculum mapping took place with grade-level teams. Teachers were observed implementing effective teaching techniques such as conducting read-alouds, and students were observed using domain vocabulary in conversation and participating in meaningful activities that reinforce lesson objectives.
Interviews and surveys conducted over the course of the ACAP visit provided the Core Knowledge Foundation with a detailed assessment of the level to which the staff understood the importance of the Foundation's "Core Implementation Practices," a tool that articulates what it means for a school to implement Core Knowledge with a high degree of fidelity. The resulting forty four–page Implementation Feedback Rubric (IFR) contained targets that needed to be met in order to achieve the Core Knowledge Official School designation. Liberty Common School received the designation, with a distinction in establishing professional learning communities that support collaboration and equity of Core Knowledge planning and implementation.
Casey Churchill, the elementary school principal, stated, "It is nice to have an outside entity such as the Foundation observe our school and point out areas that we are excelling in and areas that need improvement. The IFR report was thorough and spot-on in regards to feedback. We are excited to dig deep into the report, and celebrate our successes and make necessary improvements for our next steps."
The Core Knowledge Foundation publishes a curriculum, the Core Knowledge Sequence, which stresses coherent, cumulative, content-specific, and context-rich content. This curriculum has been a popular choice with schools around the nation, especially with the recent development of the Common Core State Standards. General skills-based standards such as these need a content-based curriculum to successfully be enacted, and the Sequence provides just that.
There are over 1,000 schools in the United States that use all or part of the Core Knowledge Sequence. About 150 of these schools are designated as "official." Thirty–eight of these schools are "in process," and one school, Liberty Common School, has completed this process.
Liberty's curriculum, the Core Knowledge Sequence, encompasses language arts, mathematics, science, history, geography, fine arts, and physical education. The curriculum is characterized by knowledge that is:

Context-rich – lasting, unchanging knowledge such as important events of world history;
Cumulative – a planned progression building on students' previous knowledge and eliminating excessive repetition and gaps;
Content specific – clearly defined knowledge at each grade level ensuring fairness for all students;
Coherent – explicit knowledge identifies what children should learn at each grade level to ensure an articulated approach to building knowledge across all grade levels.
This evaluation process has become much more rigorous than in the past due to the Foundation's renewed interest in both the amount of Core Knowledge content taught and the instructional approaches used. Past visits were much less rigorous, and simple classroom observations drove the certification. This shift in focus from the Foundation has caused the Liberty Common administration and staff to truly analyze how they organize units and how it is effectively taught. Teachers need to have a firm understanding of both the content and the importance of developing a coherent and cohesive curriculum map so that students are exposed to content in the proper order. Liberty Common teachers no longer teach Columbus just because it is Columbus Day, for example. Before teaching Columbus, students need to be exposed to plants, then seasons, then farming, then Native Americans, and finally Columbus. If taught out of order, our students are lost in a sea of random information with no connection.
To learn more about Liberty Common School, visit http://www.libertycommon.org/.
Liberty Common School is located in Fort Collins, Colorado.  It is a charter school serving 612 K–6 students.  Liberty opened its doors on September 2, 1997, with a mission to provide excellence and fairness in education through a common foundation. This is achieved by successfully teaching a contextual body of organized knowledge, the values of a democratic society, and the skills of learning. In short, Liberty Common teaches common knowledge, common virtues, and common sense.
To learn more about Core Knowledge, visit http://www.coreknowledge.org/.
The Core Knowledge Foundation, located in Charlottesville, Virginia, provides professional development and resources to schools using their curriculum. The Foundation visits schools that have been implementing this Core Knowledge curriculum to evaluate whether the school is teaching the content as it was meant to be taught, which earns such schools the designation of Core Knowledge Official Schools.