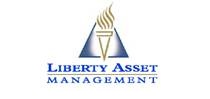 The new Liberty Asset Management website is a development meant to grow our connections with clients and keep them informed about changes in our business and our market
Wichita, KS (PRWEB) February 23, 2012
Liberty Asset Management, LLC, a leading investor in residential and commercial real estate in Kansas and the Midwest, announces a new website development that meets communication and accessibility goals for the new year and beyond.
Liberty Asset has launched a new version of the company website, a project that began in Q4 of 2011 and recently completed. "In conjunction with the move into our new headquarters location, the new Liberty Asset Management website is a development meant to grow our connections with clients and keep them informed about changes in our business and our market. Going into 2012, Liberty Asset is committed to becoming more accessible and building client relationships. The new website development project is an essential element in our growth and communications strategy," said Clark Moeller, Vice President at Liberty Asset Management. "We moved locations in 2011, and our new offices put the company in a useful position at the northeast end of Wichita.
The new location proved to be an immediate benefit to our clients. In addition, the new website allows our clients to reach us from any location – via their computers and mobile devices. Becoming more accessible to our clients was one of our key objectives going into 2011, and we have every intention to continue that effort this year and every year going forward."
The new website at http://www.libertyasset.com/ is a resource that allows clients to learn more about Liberty Asset Management and its partners, read related news and articles, and easily contact the company.
More company information, news and executive biographies can be found at the new LibertyAsset.com website.
###