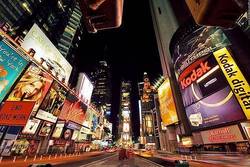 American dream is US advertising 1950 -1982
New York, NY (PRWEB) September 8, 2009
Liberty Reserve is proud to support Night of the AdEaters for its global reach which unites communities and celebrates the power and art of communication. As a third generation payment processor, global reach and connectivity are the foundation of Liberty Reserve's core business. The vision and dedication of Liberty Reserve and AdEaters to transcend cultural and physical boarders, makes this a strong alliance.
Since 1981, founded by Jean Marie Boursicot, Night of the AdEaters gathers the world's best cinematic and television commercials and showcases them around the globe. Each year AdEaters tours over 150 cities across 50 plus countries. This year marks the debut of Night of the AdEaters in New York City.
This year Night of the AdEaters will be showing over 360 commercials of the best international and local talent, from "American dream is US advertising 1950 -1982" to "Bill Gates and Jerry Seinfield from Microsoft".
About Liberty Reserve
Liberty Reserve offers a next generation online payment system with chargeback protection, that allows anyone to send money anywhere in the world instantly, safely and privately. By utilizing the latest technology, Liberty Reserve can offer its services to a wide range of customers from private user-to-user payments to a complete payment solutions for online gambling, FOREX trading, online poker, sports betting, investing, online auctions, micropayments and many other industries that demand top notch security, a more efficient credit card and PayPal alternative, chargeback protection and excellent customer satisfaction.
Without borders, without prejudice, cross continents in real time - be free to execute all of your financial affairs without impediments. Liberty Reserve is the name you can trust, experience you can count on, expertise you can rely on, knowledge you can benefit from and a financial fortress you can be safe in.
For more information visit:
LibertyReserve.com
AdEatersNYC.com
###