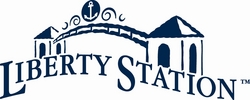 San Diego, CA, (PRWEB) October 6, 2009
Liberty Station and the Corky McMillin Companies are pleased to announce that Building 902 in Liberty Station's Office District has received Leadership in Energy and Environmental Design (LEED) Gold Certification from the U.S. Green Building Council. The 104,397 square foot Class A office building is the last new office building to be constructed at the 361-acre Liberty Station mixed-use development. The new building, which is over three-quarters leased, has had leasing success due to its mixed-use surroundings, free parking, and its environmentally-responsible design.
LEED is an internationally recognized green building certification system which provides third-party verification that a building or community was designed and built using strategies aimed at decreasing environmental impact. Factors include: energy savings, water efficiency, CO2 emissions reduction, improved indoor environmental quality, and stewardship of resources and sensitivity to their impacts. Developed by the U.S. Green Building Council (USGBC), LEED projects must meet certain prerequisites and earn a minimum number of points to be certified. Qualifying projects are designated as LEED Platinum, LEED Gold, LEED Silver, or LEED Certified.
Designed by KMA Architecture & Engineering, Building 902 LEED design features include water-efficient fixtures to reduce water usage by 30 percent, fossil filter inserts for stormwater quality control, roof slope and finishes to reduce heat island effect, locally sourced materials to reduce environmental effects of processing and transportation, and 10 percent of all construction materials were from recycled sources. Building 902 also incorporated a construction waste management program to divert 50 percent of construction waste from landfill disposal.
Located on Historic Decatur Road in the Liberty Station Office District, Building 902 features open, efficient floor plates which maximize the window-line, a showcase two-story lobby, and two third-floor balconies with panoramic bay and downtown views. The three-story structure, which was scheduled to be complete in summer 2009, was completed in early spring, almost three months ahead of schedule.
Building 902 is 77 percent leased, with defense contractor BAE Systems leasing 80,000 square feet for 10 years, including the building's entire third floor. Building 902 joins six other completed Liberty Station office buildings that are currently 100 percent leased. The Liberty Station Office District consists of seven buildings totaling 380,000 square feet of office space on 22 acres. Other major tenants of the Office District include Mitre Corp, Cubic Corp, The Boeing Company, TriWest Insurance, The Corky McMillin Companies, The Rock Church, and Stutz Artiano Shinoff & Holtz.
BYCOR General Contractors built all seven Office District buildings and oversaw construction for Building 902. Jack Markley and Bruce Brunton of BYCOR were project superintendents, and subcontractors included International Iron, Collins Plumbing, Rick's Electric Inc. and Townsend Construction.
Joe Haeussler, Senior Vice President of McMillin Commercial states, "We are very excited that Building 902 achieved LEED Gold Certification. We have received a lot of interest from small and large companies who are drawn to Liberty Station's location, retail amenities, free parking, and sustainable design. The environmental sensitivity of Liberty Station's office space is one of the main reasons why so many companies are making Liberty Station their home."
The 361-acre Liberty Station community includes 125 acres of parks, open space and a boat channel; shopping villages and restaurants; a 28-acre civic, arts and cultural district; the nine-hole Sail Ho Golf Club; three hotels on two sites; and six schools. Nearly 350 families now reside at the pedestrian-friendly Liberty Station and dozens of companies, with hundreds of employees, are doing business there. Liberty Station includes vibrant retail communities NTC Landing, the Marketplace, Harbor Square, and NTC Promenade anchored by the NTC Foundation. Liberty Station continues to receive accolades throughout the country for outstanding architectural and redevelopment design, and is a top destination in San Diego for residents and visitors. Please visit http://www.libertystation.com for more information.
Media Contact:
Beth Binger
BCI
Mobile: (619) 987-6658
###