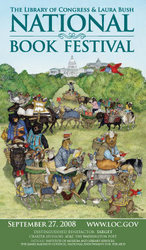 Washington, DC (PRWEB) September 24, 2008
The Library of Congress' National Book Festival offers fun-filled interactive activities for the whole family. This free cultural event offers something for readers of all ages to enjoy, including appearances by popular storybook characters, book signings, musical performances and readings by award-winning authors.
SPECIAL NOTE: The Library has created a National Book Festival Web site for members of the media to download background materials, high-resolution images, video and audio sound bites, b-roll and other audiovisual resources, as well as to request interviews with participating authors. This information can be accessed via the Press Registration link. This release will be updated periodically.
Young readers will enjoy seeing their favorite PBS KIDS and PBS KIDS GO characters from the new shows, "Sid the Science Kid" and "Martha Speaks" as well as favorites Clifford the Big Red Dog, WordGirl, Super Why, Maya and Miguel and Curious George in the Let's Read America I pavilion. Kids can take pictures with their favorite characters and watch PBS performances. The performances will include Sing-along with Mr. Steve of "SteveSongs," tapping and singing with the all new Electric Company Show and storytelling and drawing with "Martha Speaks" author Susan Meddaugh.
In the Lets Read America II pavilion, children and families will enjoy taking photos with Bullseye, the Target dog, in the Big Red Chair. Visitors can also learn about the Letters About Literature program, sponsored by Target and the Library's Center for the Book, which invites students in grades 4 through 12 to write a letter to an author, past or present, who has inspired them or altered their view of the world or themselves.
Scholastic's Magic School Bus will once again be parked on the Mall all day for families to explore. Scholastic's favorite science teacher, "Ms. Frizzle," is back, as well as geologist extraordinaire, "The Dirtmeister." In the Scholastic Build-a-Book Corner, kids can create their own books using simple craft materials. Activities, story times and photos are also available with Corduroy The Bear and the Penguin from Penguin Group.
NBA and WNBA stars Chris Duhon, Ivory Latta and the legendary Bob Lanier will be there to meet readers of all ages. Each year, players participate in the festival by reading their favorite children's books aloud with the help of students from local area schools as part of "NBA Cares."
The Library of Congress Pavilion will feature a variety of family-centered activities illustrating the depth and breadth of the Library's extraordinary collections available online. It will also offer a sampling of interactive activities available through the recently launched Library of Congress Experience.
Presentations by young poets and artists will be a new feature in the Teens & Children Pavilion. Each of the K-12 students presenting will be a winner in the River of Words environmental poetry and art contest sponsored by the Library's Center for the Book.
Popular authors for teens and children include Jon Scieszka, recently named the National Ambassador for Young People's Literature by the Librarian of Congress, as well as Sharon Draper, Tiki Barber, Dionne Warwick, Neil Gaiman, R.L. Stine, Judith Viorst and David A. Carter.
For a full list of participating authors and activities please visit http://www.loc.gov/bookfest. We hope to see you on the National Mall on Saturday, September 27th!
###